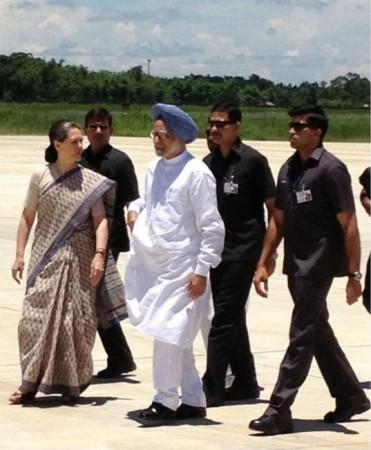 Prime Minister Manmohan Singh and Congress President Sonia Gandhi reached Assam on Monday to visit the flood-affected areas and oversee relief operations in the state. The duo, who was accompanied by Chief Minister Tarun Gogoi, surveyed the flood-hit areas of Jorhat, Dhemaji and Lakhimpur.
Manmohan and Sonia reviewed the rescue operations across the flood affected areas. The Prime Minister has also announced to provide an ad-hoc Central support of ₹5 billion, besides extending the Centre's assistance for reconstruction.
Manmohan Singh has also announced ex-gratia of ₹100,000 from the Prime Minister's National Relief Fund to the relatives of those perished in the floods. He has also asked the Defence Ministry to intervene and provide army assistance in rescue operations.
The latest floods are regarded as the worst to have hit Assam in the past eight years. The continuous rains and landslides have already killed at least 77 people across the state.
According to the Prime Minister's office, about 5 are missing and almost two million people living in the plus 2000 villages are affected.
Rescue operations are in full swing and food packets are also being delivered to the worst affected areas.
"I have been informed that sufficient quantities of food grains and other essential goods are available for the victims," said the Prime Minister.
According to the Prime Minister's Office, over 4000 people have been rescued, 400 personnel transported and 22 tons of relief material was delivered by the Air Force to the people living in flood-hit areas.
Commenting on the ongoing rescue operations the Prime Minister said, "I am satisfied that rescue and relief operations are being conducted speedily. About 4.84 lakh people have been moved to relief camps."
Sympathising with the losses of those affected, Manmohan said, "The people of Assam are facing one of the worst floods in recent times that has inflicted considerable damage in the state."
"The Central and State governments are doing everything possible to provide relief to the people," he added.