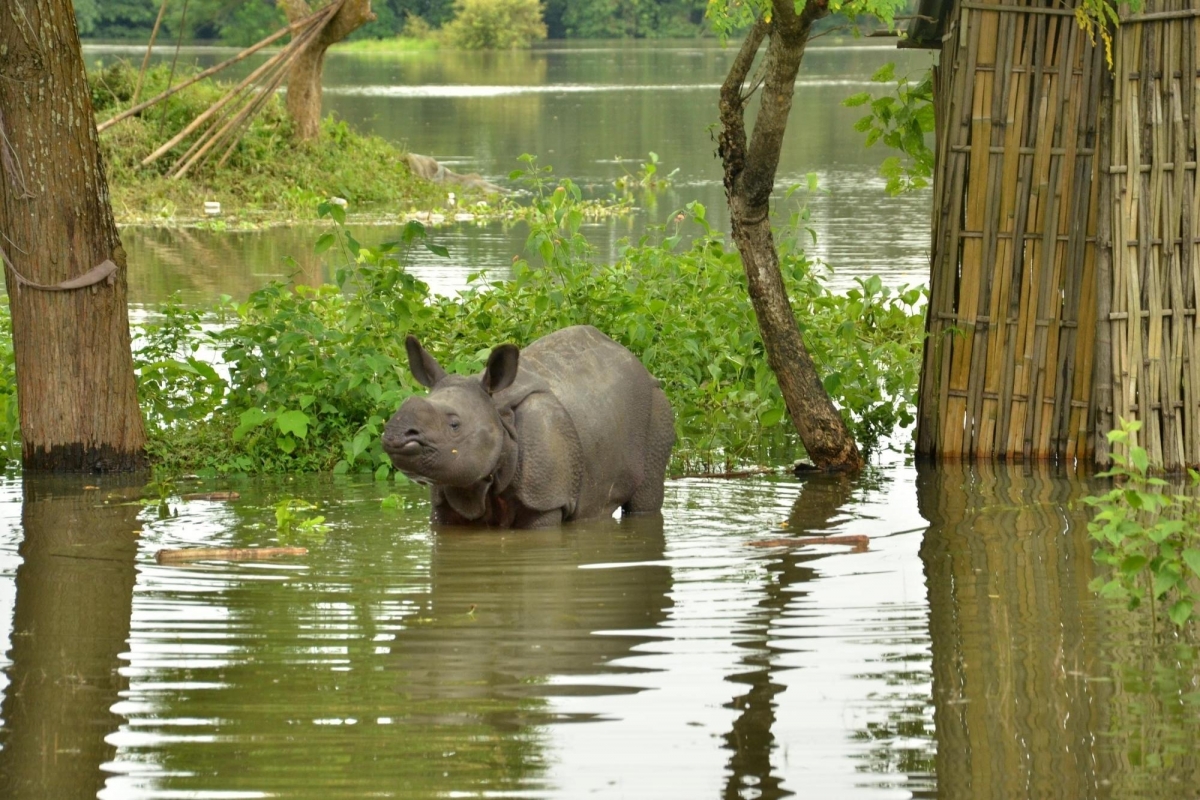 Over 240 animals, including 20 one-horned rhinos and 185 hog deer, have reportedly died within the last seven days due to the heavy floods that hit the Kaziranga National Park in Assam. Over 80 percent of the World Heritage Site has got submerged under water following continuous rainfall since last week.
The dead animals included 20 rhinos, 185 hog deer, nine swamp deer, four wild buffaloes, 12 wild boars, two hog badger, one pelican, six sambar deer, two porcupines and a python, according to local media reports.
"While 13 rhinos died due to drowning and four died of natural death due to old age, hog deer suffered the worst with 152 of them getting drowned and 12 knocked down by vehicles on National Highway 715 that forms the southern boundary," Subhasis Das, Divisional Forest Officer (DFO), Kaziranga, was quoted by the Indian Express as saying.
"The flood-level has receded by one foot since yesterday and is much below the danger level now. But about 80 per cent of the Park area is still submerged... The figure (of dead animals) is likely to go up as the entire floodwater gets out of the Park," the DFO added.
A forest official was quoted by IANS as saying that no tiger deaths have been reported so far, nor have any tiger carcasses been found. Some tigers have reportedly moved towards human habitations.
Forest teams have managed to rescue over 200 animals, including nine rhino calves. Animals were rescued using boats, Das said.
Some animals were rescued manually while in some cases, teams had to use tranquilisers. Many animals, including a rhino and around 60 hog deer, have been released back into the forest. More than 70 man-made highlands located in the national park helped save the lives of many animals.
Though the flood water has begun to recede, the fear of fodder scarcity looms large as animals would move to southern Kaziranga in search of food, IANS reported. Das said that while floods kill animals, they are also a "boon" because they help in keeping park fodder-rich and charge water bodies.
"The floods are followed by fodder scarcity for some time, then animals start moving towards the Karbi-Anglong Hills situated at the southern part of the forest," Das said, adding that the risk of poaching increases as the national highway's southern boundary is at a height, which forces wildlife to move there for shelter.
"Outside the park they are under threat from poachers and we have to be extra alert. There have been a lot of such cases. Inside the park they are safe as we are always patrolling and flood waters make it difficult for poachers too," Das was quoted by NDTV as saying.
The rescued animals are undergoing treatment at the Centre for Wildlife Rehabilitation and Conservation (CWRC), India's only wildlife field hospital located in Kaziranga.
#Assamfloods2016:People in Assam can use these helpline numbers. #disasterhelpline #monsoon #rainfall #DisasterPrep pic.twitter.com/RoMMMO3nms

— NDMA India (@ndmaindia) July 28, 2016
85 per cent of the world-famous Kaziranga National Park and 90 per cent of the Pobitora Wildlife Sanctuary flooded pic.twitter.com/Vd2t4lOCdx — Pratidin Time (@pratidintime) July 28, 2016
Home Minister Rajnath Singh meeting the family members of those affected by the floods at relief camp in Assam pic.twitter.com/sVxMEvaBwB

— Pratidin Time (@pratidintime) July 30, 2016
Rajnath Singh to survey flood hit zones of Assam even as death toll rises to 21, over 5 lakh in camps n 18 lakh hit pic.twitter.com/GEvrDdd2SD

— Subhajit Sengupta (@SubhajitSG) July 30, 2016
#AssamFloods2016:NDRF providing medical assistance to the people in Assam. #Help #response #flood #assistance #NDRF pic.twitter.com/iLBaSO5HkJ — NDMA India (@ndmaindia) July 29, 2016
6 lakh effected, 21000 people in relief camps,over 1200 villages hit by #Assamfloods . Report coming up pic.twitter.com/wQ8P2VHXc3

— Subhajit Sengupta (@SubhajitSG) July 26, 2016
As flood situation worsens, troops of 7 Sikh Light Infantry continues rescue efforts in Chirang. #AssamFloods 13/n pic.twitter.com/blmJyvumIN — Nilim Dutta (@NilimDutta) July 26, 2016
Lakhs already affected. Follow #AssamFloods - to connect with agencies on the ground & to support their work. pic.twitter.com/uaTSUuyoPx

— Twitter India (@TwitterIndia) July 27, 2016
Related
Flood fury in Assam: Over 20 dead, 18 lakh people in 3,300 villages affected
Assam: Over 1 million people hit as floods worsen in India's tea region
Assam floods: 2 dead, 5 lakh homeless as Kaziranga National Park under water
Assam Floods: Governor Asks for More Central Help