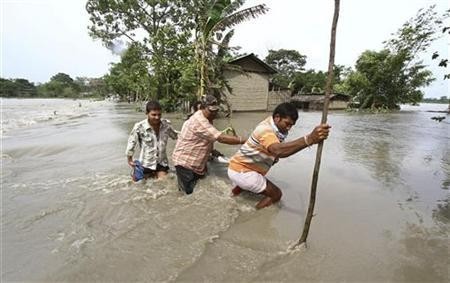 The authorities in Assam have sent out evacuation alert to as many as 11 districts of the state after torrential rains swollen the Brahmaputra river and its tributaries, forcing thousands of people to leave their homes.
The Brahmaputra river, which is the lifeline of the people in the state, is flowing above the danger mark, affecting nearly one lakh people and damaging over three hundred houses in 11 districts. About 6,000 hectares of agricultural land is under water.
It is reported that the floods damaged six roads, one bridge and breached two embankments in Karimganj district.
Several districts like Dhemaji, Nagaon, Chirang, Tinsukia, Golaghat, Karimganj, Lakhimpur, Jorhat, Morigaon and Kamrup were badly affected by the overflowing Jiadhol river, according to sources from Assam State Disaster Management Authority. Jorhat, Sonitpur, Sibsagar and Dibrugarh districts are also said to be in danger with the Brahmaputra river crossing the danger mark.
Sources said that around 900 relief camps have been set up across the state for the affected people, who are mostly from Dhemaji district. Heavy rainfall in the neighbouring Arunachal Pradesh state has increased the water level in the riverbed.
The floods have also partly damaged the World Heritage site - The Kaziranga National Park - which gives shelter to two-third of the world's one-horned rhino population. Animals in the park were forced to take shelter on highlands. The floods have also affected Pobitora Wildlife Sanctuary.
People affected by the floods claimed that state government has to be blamed for the floods, as river embankments were not constructed despite knowing the problem of soil erosion in the state. They added that the government didn't even repair the river embankments breached by the earlier floods.
Meanwhile, Prime Minister Manmohan Singh, who is a MP from Assam, has spoken to Assam Chief Minister Tarun Gogoi to discuss the situation of the floods in the state. He has promised central help for the people affected by the floods.