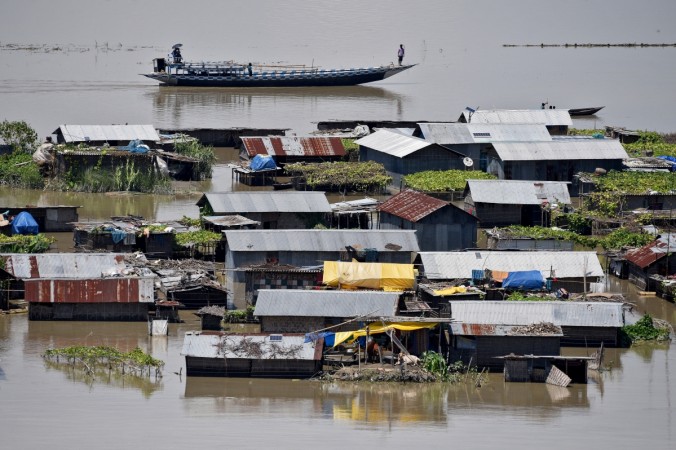 The second wave of floods caused by yet another burst of heavy rains in Assam and other parts of northeast India has led to the deaths of 10 more people. The death toll has now climbed to 99.
Assam floods: Death toll rises to 89; situation to worsen as heavy rains continue
Six people have been reported dead in Kokrajhar, three in Bongaigan and one in Biswanath.
As the flood continues to worsen, the government has called out to the Indian Army and the Indian Air Force to rescue people stranded in inundated districts. With the levels of water in nine rivers, including Bhrahmaputra rising beyond the danger level, it has been listed as one of the worst floods in Assam.
The road and rail connectivity have also been affected.
23 lakh people displaced
The incessant rainfall over the past few days has affected lakhs of people from the state of Assam. Until Saturday 10.99 lakh people were reported to have been affected. However, with the flood spreading to over 21 districts from 19 districts, over 23 lakh are now bearing the brunt of the flood.
Initially, Dhemaji, Lakhimpur, Biswanath, Sonitpur, Baksa, Barpeta, Bongaigaon, Chirang, Kokrajhar, Dhubri, South Salmara, Morigaon, Golaghat, Jorhat, Majuli, Sivasagar, Charaideo, Dibrugarh and Tinsukia districts were affected.
Nagaon is one of the latest additions among the affected districts.
Meanwhile, the displaced people have taken shelter in 439 camps set up by the government.
Indian Army to the rescue
State project co-coordinator of Assam State Disaster Management Authority Rajib Prakash Baruah said the Army is assisting the local administration in rescuing marooned people in Nagaon and Kokrajhar districts.
"On Assam government's request, IAF has also put its men on standby and their choppers can be deployed in minimum time for air dropping of relief and rescue operations," Baruah was quoted as saying by Times of India.
"We have also deployed additional forces from the National Disaster Response Force and the State Disaster Response Force," he added.
Defence PRO Lt Col S Newton said, "Red Horns Division, under the aegis of the Gajraj Corps, moved swiftly to the aid of people of lower Assam affected by floods amidst a heavy deluge and pouring waters of overflowing rivers."
"Approximately 3,000 people trapped in their villages were rescued amidst fast currents and taken to relief camps. The Army deployed its boats to reach the marooned people and made a number of trips against the swift current to save people," Newton further added.
20 trains cancelled
The rail connectivity has come to a standstill after the Northeast Frontier Railway (NFR) cancelled 20 long-distance trains, including the Dibrugarh-New Delhi Rajdhani Express, on Sunday. Two other long distance trains -- Dibrugarh-Chandigarh Express and Guwahati-Okha Express -- scheduled to depart on Monday have also been cancelled.
According to reports, 14 other trains have been stranded at different locations. NF Railway CPRO Pranav Jyoti Sharma said the stranded passengers in various stations are being provided with all basic amenities like drinking water.