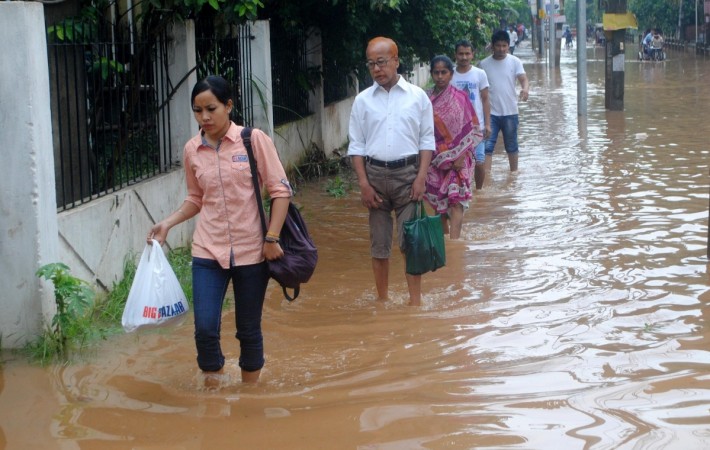 The state of Assam, which has been experiencing heavy downpour over the past few days, is seeing flooding in different parts, due to which at least two people have died and lakhs of people have been affected. The Kaziranga National Park — a protected Unesco World Heritage site because it houses a huge population of the rare one-horned rhinos — is also said to be inundated.
According to a statement from the Assam Disaster Management Authority (ADMA), the Lakhimpur district is one of ththe worst affected, with one of the two deaths reported due to the flooding coming from there. The district has also seen 2,300 big and small animals washed away.
Overall, 5 lakh people have been affected by the flooding, of whom more than 20,000 are in the 70 relief camps set up by the ADMA in different parts of the state, with five relief distribution centres servicing them as well as the areas affected across 13 districts in Assam.
Other than Lakhimpur, the districts affected are Golaghat, Morigaon, Dhubri, Jorhat, Sivsagar, Dhemaji, Kokrajhar, Barpeta, Bongaigaon, Nagain, Dibrugarh and Chirang. The second death has been reported from the MAyong area of Morigaon.
More than 1,000 villages and localities across 33 revenue circles in these 13 districts have been affected by the flooding. Agriculture has also been affected, with crops sown across 46,680 hectares affected. Besides, 17 houses have colapsed in the Chirang district.
The report also said a lot of infrastructure — from key connecting roads to school buildings, and even embankments of rivers — have been affected.
Several rivers are also in spate, with the Brahmaputra, Dhansari, Jia Bharali, Puthimari, Beki and Sankosh rivers flowing above the danger zone.