At least 100 people were killed and many gone missing after an overloaded double-decker boat carrying over 300 people capsized in Brahmaputra river in Dhubri district, Assam, at 5 pm on Monday night. Sources said that the death toll may cross 200.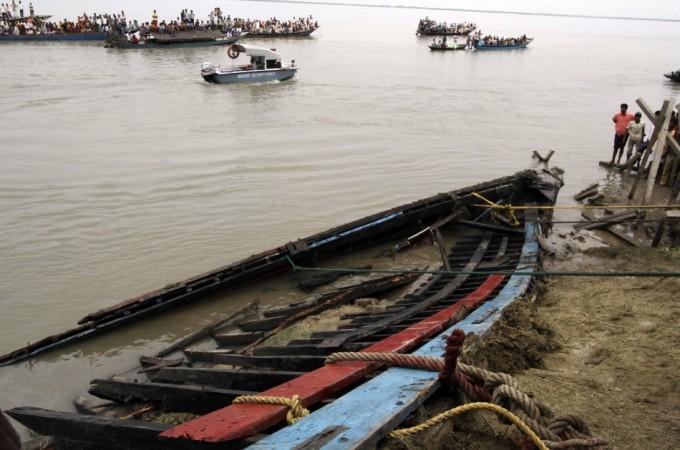 The ill-fated boat left Dhubri ghat to Medertari, near Fakirganj at around 2.30 pm but it got caught in a cyclonic storm, drifted away and broke into pieces after hitting a boulder at Bura-Buri. The accident site is about 200 km from Guwahati.
"A motorised boat carrying about 300 passengers was sailing from Dhubri town to Hatsingimari, but the boat was caught in a cyclonic storm in the Brahmaputra river and it was capsized around 5 pm," IBNS quoted Dhubri district SP Pradip Saloi as saying.
"At least 52 passengers swam to safety after the incident, but many including women and child are unaccounted for till now," he added.
At least 68 bodies had been recovered on Monday night and over 100 people still missing. Sources said that the death toll could cross 200.
Rescue workers police, Border Security Force and local people braved the bad weather to search for survivors and recover the victims. SP Pradip Saloi said that rescue operations were hampered by bad weather.
Meanwhile, Prime Minister Manmohan Singh conveyed his condolences to the near and dear ones of the victims.
"The Prime Minister is shocked and grieved to know about the loss of lives in a boat tragedy on the Brahmaputra river in Assam. He has conveyed his deepest condolences to the near and dear ones of those who lost their lives," says a statement from the PM's office.
The PM has also spoke to the chief minister of Assam and has assured assistance in relief operations to the families of the victims.
"He has given instructions for all possible assistance to the government of Assam in relief operations and also for assistance from the Prime Minister's National Relief Fund to the families of the deceased. The Prime Minister spoke to the Chief Minister of Assam to convey his condolences and express solidarity with the people of Assam," it added.
(With Inputs from IBNS)