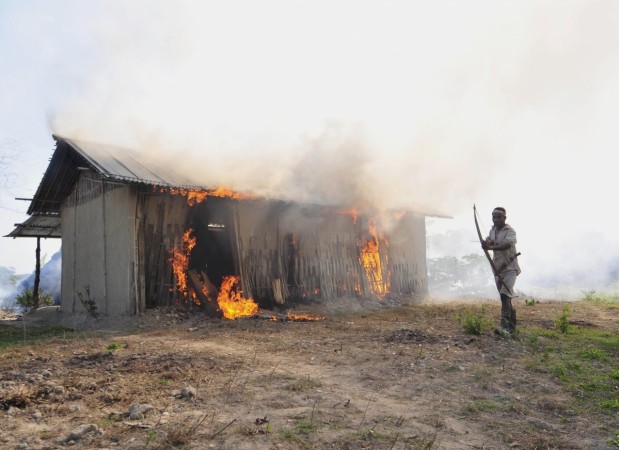 Both the Centre and the Assam government reportedly failed to act on intelligence inputs about plans of National Democratic Front of Bodoland (Songbijit), or NDFB(S) militants to attack tribal ethnic groups in four districts of Assam on Tuesday.
The State Intelligence Bureau (SIB) in Assam had on Tuesday morning sent an intelligence input to the state government warning of a terror attack by NDFB (S) militants led by Bhedi, targetting over 100 Adivasis and Santhal tribals along with members of the Muslim community in Sontipur at around 4 pm.
NDFB (S) militants began the massacre at 6:15 pm.
Despite the advance warning, security forces could not be rushed to the districts leading to death of at least 37 people, according to The Economic Times report.
Minister of State for Home Kiren Rijuju told ET that the delay was due to inadequate logistics. "This is not an intelligence failure. All the inputs were in place and intelligence was spot on. The only thing is that forces could not reach there (Sonitpur) on time. It is a question of logistics...there are no proper roads and there was no proper deployment of police in that area at that time. The forces could not reach there on time due to the terrain," said Rijuju.
However, another report by Hindustan Times said the state started receiving information from the intelligence few days before the carnage took place.
"Even before that, for the last two to three days, there were continuous stream of intelligence inputs by the IB and Assam police on killings being planned by Bodo militants in retaliation of killings of NDFB commanders by the security forces," a security official told HT.
These intelligence inputs were sent to the state after the Assam police killed two Bodo militants on Sunday and seized arms and ammunition from them as a part of their operation. The NDFB (S) had threatened retaliation if the police continue with their operations.
NDFB (S) had issued a public statement a few days ago from Myanmar, warning the state of retaliatory attack on Assam by their militants. Rijuju accepted having this information from the intelligence. "We were aware of that. We had the intelligence," he said.
The terror strike by NDFB(S) militants on Tuesday has so far led to the death of at least 72 people, including 21 women and 18 children.
Three more Adivasis were killed on Wednesday in police firing when they started protesting against the militants' attack. Five Bodo militants have also been killed by Adivasis in Sontipur and Chirang districts on Wednesday.