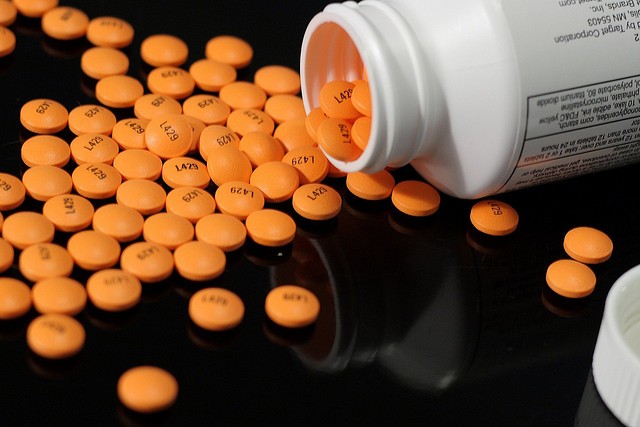 Regular aspirin intake prevents the formation of deadly blood clots in arteries and veins, new research reveals.
In the new study, taking 100 mg dose of aspirin daily also reduced risk of heart attack, stroke and cardiovascular death in high risk patients.
Nearly 1,224 patients took part in the study. The painkiller lowered risk of venous thromboembolism (VTE), deep vein thrombosis (DVT), pulmonary embolism (PE) and other cardiovascular events by one-third.
VTE is a clot circulating in the blood that obstructs proper functioning of blood vessels and DVT is a blood clot that is formed in leg veins. The clots bring redness, swelling and pain in the legs.
The condition becomes life-threatening when the blood clot manages to reach the lung and interferes with the normal function of the lungs, an occurrence termed as pulmonary embolism.
"The study provides clear, consistent evidence that low-dose aspirin can help to prevent new venous blood clots and other cardiovascular events among people who are at risk because they have already suffered a blood clot," lead author of the study, professor John Simes from the University of Sydney, said in a news release.
Though certain anticoagulant drugs like warfarin are normally used to treat these blood clots, their long term use can increase bleeding risk.
Apart from that, the dosage of these medications has to be changed regularly according to the severity of the condition and are very costly also. Aspirin is highly promising in such a context, researchers said.
"Aspirin does not require laboratory monitoring, and is associated with about a 10-fold lower incidence of bleeding compared with oral anticoagulants. We are convinced that it will be an alternative for extended prevention of venous thromboembolism after 6–12 months of anticoagulant treatment," co-author of the study, Cecilia Becattini, said in a statement released by the American Heart Association.
The results of the study have been reported in the online issue of Circulation.
This is not the first study to highlight the heart benefits provided by aspirin. Last year, a team of researchers from Netherlands found that aspirin thinned blood and helped to reduce platelet activity by 22 units. Researchers said that taking aspirin at night can avoid many deadly heart attacks, which usually occur early morning.
However, according to experts, the daily aspirin therapy does bring some side-effects also.
"A lot of people take aspirin who really shouldn't," Dr Christopher Cannon, a cardiologist at Brigham and Women's Hospital and professor of medicine at Harvard Medical School, said in a university statement. "Everyone assumes aspirin is harmless, but it isn't."
Some side-effects of aspirin as provided by the Mayo Clinic, United States are:
Aspirin lowers risk of clot-related stroke, but can increase risk of bleeding stroke or hemorrhagic stroke.
Hearing problems and tinnitus (a medical condition that leads to noise or ringing in the ears).
Stomach ulcer