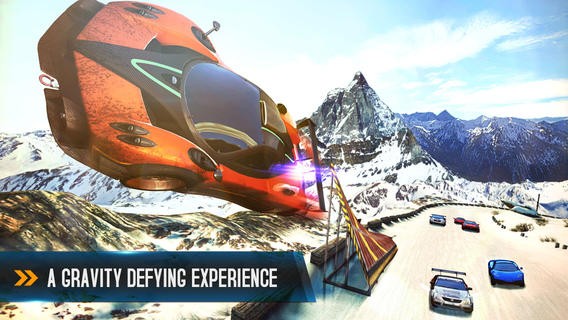 Asphalt 8: Airborne is the latest popular racing game with reviews from over one million fans. The game provides players with luxury dream cars like Lamborghini Veneno, Bugatti Veyron, Ferrari FXX and Pagani Zonda R.
This Gameloft video game allows players to make 360 degree jumps, barrel rolls, and to perform numerous stunts in the air along with a choice of nine different locations.
Airborne has some of the most stunning gaming environments. Apart from these, players will also be able to go and team up with their friends and play in multiplayer environments that allows up to eight opponents.
The game reviewers on Google Play gave the game 4.5 rating out of 5. Below are some of the tricks for Asphalt 8: Airborne:
1. Earn Atleast One Star at Each Stage - Stars will help players not only to unlock the one-time money bonus, but also to make purchases of in-game items.
2. Choose the Best Control Scheme that Fits You - Check all the possible control schemes and select what is best for you.
3. Buy Car Packs in case You are Buying Something - If players are willing to shell out money from their pockets for this gaming app, then it would be better to spend for the car packs. There are car packs for every car class and it would be better to buy them early by checking what car classes you have and what is being offered than to buy it at a later date.
4. Explore all the Maps - By exploring maps, players will realize that there are many alternative routes, hidden passages and shortcuts. Mastering these tracks will lead to your victory. But know that not all alternate routes are shorter and some are very difficult to navigate. Play against each other to take mental notes of the side tracks.
5. Be a Drift Master - Players drifting near the curves will earn more nitro while maintaining your speed.
6. Memorize Tracks - Like how most racing car drivers do, memorize the tracks and their layout as it will help you in gaining momentum at certain stages and turns, which might otherwise dampen your chances of winning.
7. Do not use Nitro until the Last Part of the Track - Make sure that you retain the nitro until the last part of the track, so that you do not get passed over by your rivals even though you were leading.
8. Which Two Upgrades Should be Bought First? - The first two upgrades to go in are the Handling and Top Speed features. The Handling upgrade allows players to control their vehicles and the Top Speed upgrade will help them to reach the top speed of the car. After you have these two, go in for the Nitro and Acceleration upgrades.
9. Keep Yourself Airborne Whenever Possible - Whenever possible, take your vehicle into air and perform some barrel rolls. Hit the nitro just before you hit the platform and go flying, it will give you an extra boost.
10. Know the Score of your Rivals - If your rival scores higher, it would mean that they will be more aggressive during the race.
11. Bonuses that Help - Players must get these bonuses during the race since it will lead to more in-game currency. The bonuses are:
Take out other cars
Narrowly avoid colliding with other cars
Knock out road blocks and cones
Download Asphalt 8: Airborne free for Android, iPhone and Windows.
(Credit: Heavy)