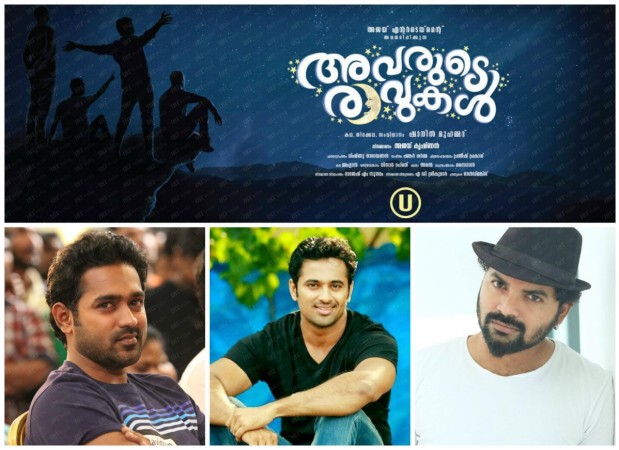 After co-directing the superhit Malayalam movie "Philps and the Monkey Pen," Shanil Muhammed is all set to direct his first independent project "Avarude Raavukal." The makers have started the filming of the flick Monday, Feb. 22.
The director himself made the announcement of the upcoming project through a Facebook post on Sunday and revealed the first look poster of the movie. Actor Sajid Yahiya is said to have suggested the name for the movie that has Unni Mukundan, Asif Ali and Vinay Forrt in the lead roles. The movie also has Aju Varghese, Nedumudi Venu and Lena in supporting roles. The other characters of the flick have not been revealed yet.
Nedumudi Venu is expected to play the role of a mentor guiding the three youngsters — Asif, Unni and Vinay — who arrive in Kochi with their own set of problems. "Avarude Raavukal" is said to highlight the various issues faced by youngsters these days.
"'Avarude Raavugal' and 'Janata Garage' starts rolling from Tomorrow. 'Oru Murai Vandu Parthaya' being shot at Palakkad. Keep me in your prayers. Wishes to the entire team of all the films," Unni posted on his Facebook page on Sunday.
"Avarude Raavukal" is the third outing of Unni and Asif together after "D Company" and "I Love Me." Vinay and Asif have acted together in the films "Kohinoor," "Apoorvaragam," and "Ritu." The upcoming movie is the first time the trio will work together and is expected to garner positive reviews as the actors enjoy a huge fan following in Kerala.
While Vishnu Narayanan handles the cinematography, Shankar Sharma composes music for "Avarude Raavukal," which is being produced by Ajay Krishnan under the banner of Ajay Entertainments.