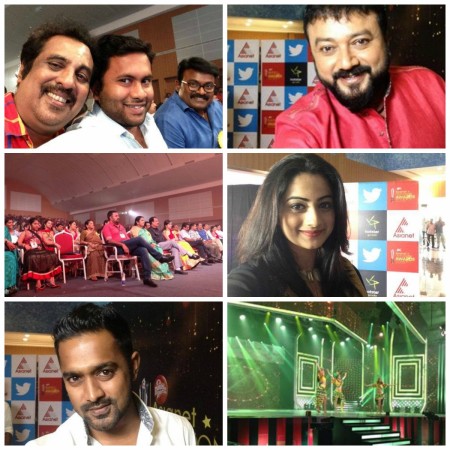 Malayalam entertainment channel Asianet's Television Awards 2015 that honoured the best performances of small screen actors for the year 2014 ended on a grand note on Thursday, 21 May.
Apart from the small screen stars, the event also saw the presence of filmstars and other celebs, including Jayaram, Aju Varghese, Asif Ali, Asha Sharath, Bhama, Vedhika, Namitha Pramod, KPAC Lalitha, Rimi Tomy and Sreejith Ravi, among many others.
The star-studded event also featured the amazing stage performances of the actors, and the guests were also seen having fun at the photo booths during the event.
Asianet TV awards 2015, powered by Double Horse, will be aired soon on the popular Malayalam entertainment channel.
Check out some of the photos of the Asianet TV awards below:
Elegance of audience #asianetTVawards pic.twitter.com/JE0VxOuRPo

— Asianet (@asianet) May 21, 2015
Namita Pramod at #asianetTVawards pic.twitter.com/B0bTj6UnEZ — Asianet (@asianet) May 21, 2015
Selfie time at #asianetTVawards pic.twitter.com/7XddmObuPO

— Asianet (@asianet) May 21, 2015
Jayaram is here for #asianetTVawards pic.twitter.com/Y1KGgFwUjx — Asianet (@asianet) May 21, 2015
Guess who is here for #AsianetTVawards pic.twitter.com/Avk3Cn7hdH

— Asianet (@asianet) May 21, 2015
The most active, energetic personality in Kerala #asianetTVawards pic.twitter.com/pwVMEgvYW0 — Asianet (@asianet) May 21, 2015
Selfie time with Jayarm and Asha #asianetTVawards pic.twitter.com/VP453AcCUs

— Asianet (@asianet) May 21, 2015
The stunning Asif Ali at #AsianetTVawards pic.twitter.com/B5rrUFyeKL — Asianet (@asianet) May 21, 2015
Our lovely Bhama #asianetTVawards pic.twitter.com/Wtl1sgjBCd

— Asianet (@asianet) May 21, 2015