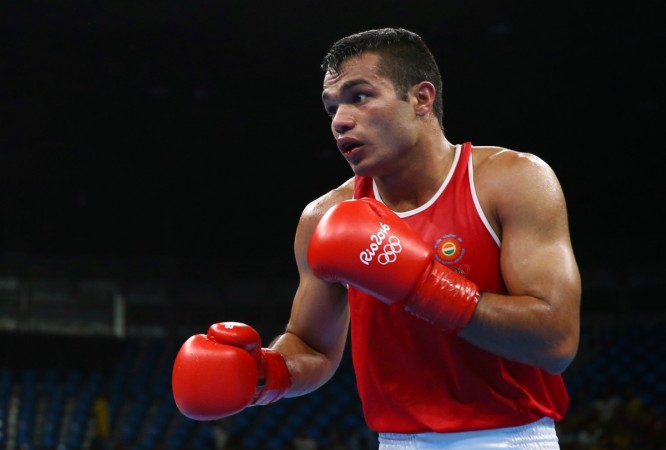 When Indian boxer Vikas Krishan takes the ring in the upcoming Asian Games, he will be on the cusp of scripting a unique history. Vikas has won a gold medal in 2010, followed it up with a bronze in 2014 and if he manages to achieve a podium finish in Indonesia, he will become the first boxer from India to win three back-back-back medals in the games.
In the process, Vikas will also better the records set by Hawa Singh and Vijender Singh, who won medals back in 1966 and in 1970 Asian Games. It was then matched by Vijender Singh who equalled the record by winning bronze in the 2006 Doha games and then by clinching gold in Guangzhou in 2010.
"Not exactly, actually, winning the gold medal at the Commonwealth Games has taken off all the pressure on me. I am in a very good space mentally, relaxed and calm," Vikas was quoted as saying by the Press Trust of India.
The boxer moved to the middleweight category in 2014 where he won bronze after he clinched gold in lightweight in 2010.
"My body is at a hundred per cent right now. There was a bit of a setback when I was down with fever during a training trip to Sheffield last month but I am back to full fitness now," Vikas, who will enter the competition as one of the most decorated boxers, said.
If the current form is anything to go by, then Krishan has been in sizzling form in the recent past. He bagged a gold in the season-opening of the Strandja Memorial in Bulgaria and then emulated the feat in the Commonwealth Games later in the year.
He also thought of going pro and even spoke about it at the CWG, but the pugilist is not thinking too far ahead and wants to focus on representing his country.
"For the next 20 days, it's about representing the country at the Asian Games. We will talk about the future after these 20 days," he said.
The boxing competition of the Asian Games commences from August 24.