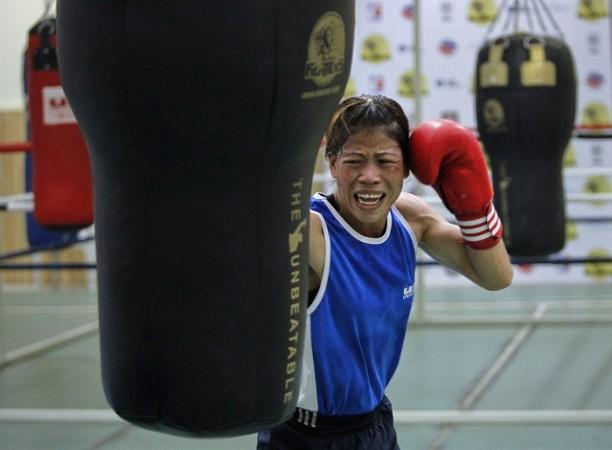 Mary Kom won India another gold medal in the Asian Games, lifting the pall of gloom that had eclipsed the boxing camp following that controversial semifinal bout involving Sarita Devi on Tuesday.
The diminutive Indian boxer came into the Asian Games as one of the favourites, and she certainly did not disappoint, coasting her way into the final before outlasting Kazakhstan's Zhaina Shekerbekova 2-0 in the final of the flyweight category to become the first Indian woman boxer to garner a gold medal at the Asian Games.
While the margin of the win was more than enough to secure the gold medal for India, it was not as straightforward, as one judge did score the bout even at 38-38.
However, with the other two judges going Mary Kom's way in the final, thanks largely to an aggressive third round, the 31-year-old wrote another piece of glittering history in her brilliant career.
This gold medal comes on the wake of the controversy that erupted on Friday after the judges were accused of favouring the host teams – South Korea's – boxers.
One of them at the receiving end of a tragic result was India's Sarita Devi, who, despite dominating her South Korean opponent Park Ji-Na, was not adjudged the winner.
"The fact that all the three judges gave it to the Korean clearly shows the result of the bout was decided before the start," Indian team's Cuban coach Blas Iglesias was quoted as saying by the Times of India. "You can understand if such a thing happens in a close bout but this was totally one-sided and this is a poor advertisement for boxing.
"In fact, the Korean coach is a good friend of mine and he came and said sorry."
Sarita Devi, to her great credit, showed great strength and resolve by refusing to accept the bronze medal, which she automatically won as a result of her controversial semifinal loss, on Wednesday.
At the medal ceremony, a tearful Sarita gave her bronze medal to Park Ji-Na, who could only manage a silver after losing in the final.
Three other bouts were also deemed to favour the South Korea boxers in this Asian Games, with another Indian in Devendro Singh also falling foul of a little too much partiality.
However, the ever-smiling Mary Kom (outside the ring that is), at least, brought back a little bit of brightness to the boxing circles with her superlative victory in the final.