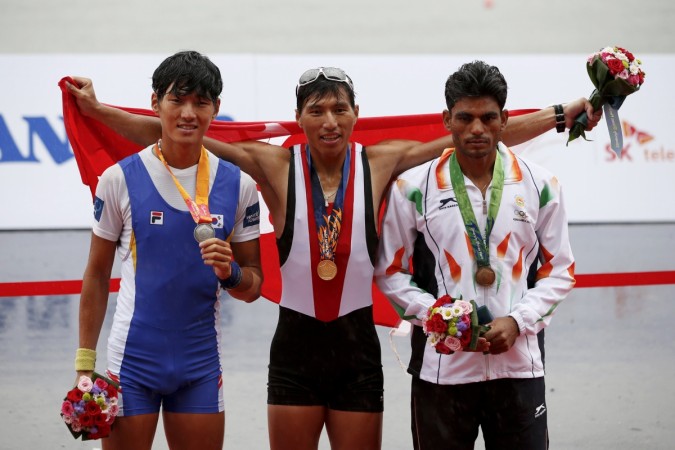 India won yet another bronze medal at the 2014 Asian Games, when Dushiant Dushyant rowed his way into the third place of the men's lightweight singles sculls event, in Incheon, South Korea, on Wednesday.
Dushyant took seven minutes and 26.57 seconds to complete the two kilometre race, finishing in the third place, after Hong Kong's Hoi Kwan Lok (gold) and South Korea's Hakbeom Lee (silver).
Dushyant, who had reduced his weight from 78 kg to 72 kg, in order to compete in the lightweight sculls event, started well, moving into the second spot on the 500 meter mark, 1.57 seconds behind Lok. He even went on to race on to the lead, half way into the race opening up a 1.21 seconds lead. However, the 22-year-old squandered this considerable large lead, in the last 500 meter stretch, settling for a bronze medal in the end.
"I was confident of the gold but my lane was the most affected by the strong wind," said Dushyantafter the race. "However I am happy to win the bronze medal."
Hong Kong's Lok slowly began to catch up on his Indian counterpart, and was only 0.64 seconds behind the latter, on the 1,500 meter mark. However, Dushyant still had a considerable lead over South Korean Lee, who was 2.21 seconds behind the Indian.
However, it seemed that the young Indian had used up most of his stamina early on in the race, as Lok and Lee eased past him on the final stretch.