India moved down from the 13th spot to the 15th in the medals tally of the 17th Asian Games in Incheon, South Korea on Wednesday.
Dushiant Dushyant, who was leading the race in the men's lightweight single sculls, fell behind in the last stretch of the race and had to settle for bronze. If he had held on for a few more seconds, he could have clinched gold and India would have climbed two spots from 13th to 11th.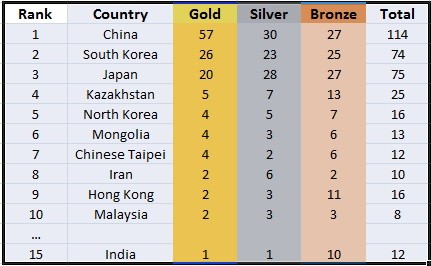 India has won a total of 12 medals but 10 of them are bronze. The failure to convert bronze medals to gold, at least in a couple of events, seems to have cost India hard as countries like Iran (2 gold, 10 medals, 8th rank), Malaysia (2 gold, 8 medals, 10th rank), Myanmar (2 gold, 2 medals, 11th rank), Singapore (1 gold, 8 medals, 13th rank) and Kuwait (1 gold, 3 medals, 14th rank) are all ahead of India in the tally, despite winning less medals overall.
Let's take a look at the highlights of Day 5's action now.
Wushu
Yumnam Santhoi Devi lost her semifinal to settle for bronze. Narender Grewal was also adjudged to have lost his semifinal 2-0 against Jean Claude Saclag of the Philippines. However, the Indian authorities have appealed to the Asian Games jury as Grewal had successfully thrown Jean Claude to the ground, in addition to knocking him off multiple times. Indian allege that there was foul play on the cards as the assistant judge was from the Philippines.
Rowing
Dushiant Dushyant finished third in the men's lightweight single sculls event to win bronze. Dushyant had a considerable lead, half way into the race, but squandered it in the home stretch to settle for bronze.
Shooting
Indian shooter Pemba Tamang, Gurpreet Singh and Harpreet Singh finished fourth in the men's rapid fire pistol team event.
Badminton
India progressed to the round of 16, with Pradnya Gadre and Sikki Reddy Nelakurthi beating Nepal's Sichhya Shrestha and Punam Gurung 21-6, 21-4. Meanwhile, Sumeeth Reddy and Manu Attri beat Nasheeu Sharafuddeen of Maldives to take India to the round of 16.
Equestrian
The Indian team of Sangram Singh, Fouaad Mirza, Mrityunjay Sinh Rathore and Ajai Appachu Poovaiah ended the men's Dressage on the fourth spot.
Volleyball
India beat Maldives 3-0 in the men's preliminary Group C match, while the women's team lost to Thailand in their preliminary Group A match by the same score line.
Swimming
Sajan Prakash and Sandeep Sejwal finished sixth and fifth in the men's 100m butterfly and breaststroke events, while the Indian team disappointed their fans in the 4x100 m freestyle final, finishing seventh with an overall timing of 3:25.94.
Squash
India edged past Hong Kong 2-1 in the women's Group B match. India women also beat Pakistan 3-0 in the second group match, while the men beat China by the same score line in their Group B match.
Boxing
India's Akhil Kumar beat Nepal's Purna Bahadur Lama in the men's 60kg lightweight round of 32 bout by technical knockout, while Shiva Thapa got a walkover from East Timor's Leonel Prada Helo in the bantamweight event.
Sailing
Varsha Gautham and Aishwarya Nedunchezhiyan of India finished top of the women's two person dinghy.
Basketball
Iran beat India 76-41 in the men's preliminary Group E match.
Tennis
Shweta Chandra and Rishika Sunkara beat Sara Mansoor and Ushna Suhail from Pakistan 6-4, 6-0 in the women's doubles first round match, while Natasha Palha was beaten 5-7, 3-6 by Noppawan Lertcheewakarn of Thailand in the second round of the women's singles event.
Sepaktakraw
Thailand beat India 3-0 in the women's preliminary Group B event.
Hockey
It was a surprise victory for the Chinese women as they overcame India 2-1 in their Pool A match.
Archery
Indian women ended up fifth in the women's team recurve event.
Gymnastics
Dipa Karmakar of India missed out on a bronze medal as she finished fourth, scoring a total of 14.200 in the final of the women's vault event.
Football
Meanwhile, the first doping case in the 17th Asiad has now been revealed by the Olympic Council of Asia (OCA) as Tajikistan footballer Khurshed Beknazarov failed a drug test on 14 September. The OCA has stated that Beknazarov has been disqualified from the multi-sport continental event, and his test results have been forwarded to the World Anti-Doping agency and FIFA.