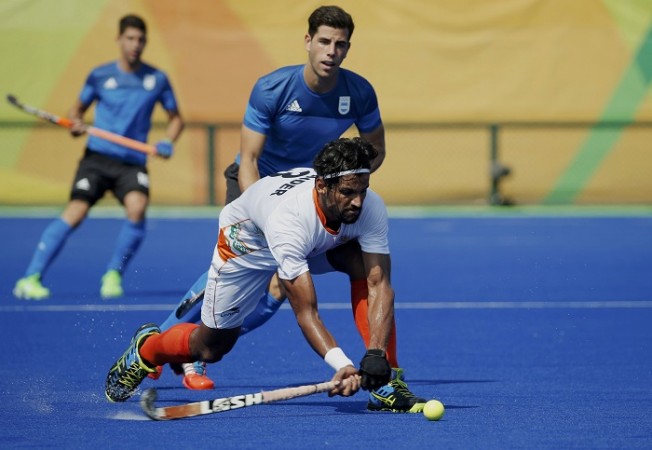 India started their Asian Champions Trophy campaign with a thumping win over Japan, with the score on board reading 10-2 on Thursday. Rupinder Pal Singh played a huge role in the win as the defender scored six goals. Ramandeep Singh also scored a brace, while Talwinder Singh and Affan Yousuf found the back of the net once each.
With this massive win, India have justified the favourites tag, and sent warning signs to other teams in the competition. India put the game in the bag during the first half itself, where they scored seven goals and concede only one. After taking a massive lead in the first 30 minutes, India dropped their gear a bit, but were still not troubled much by the Japanese.
Roelant Oltmans' side were brilliant from the first whistle as they took an early lead with Ramandeep, who was given too much time with the ball in the danger area, slotting the ball home via a cool finish in the second minute.
After the opening goal, it was India all the way, and they doubled the lead as Rupinder converted the first penalty corner in the ninth minute. India looked a threat whenever they had the ball in strong offencive positions, and Rupinder once again showed his strong drag-flick skills, scoring his second in the 12th minute.
It was getting embarrassing for Japan, who let in their fourth goal as Ramandeep hit a powerful shot, which found the back of the net.
The second quarter also started brightly for India as Rupinder completed his hat-trick in the 17th minute. With India being a dominant side in the contest, Japan were making errors, and Oltmans' side looked a superior side in all departments, and scored their sixth goal with Talwinder scoring a wonderful field goal.
Japan never really got into the game. They got their first chance to score via a penalty corner in the second quarter, but failed to convert. Few minutes later, Rupinder, who was putting up an exhibition of converting penalty corners, connected a clean strike, which was his fourth of the match.
However, Japan, who were completely outplayed, got a goal back in the 23rd minute. Kenta Kanata scored for Japan.
Japan played better hockey in the third quarter, and did not concede any goal. Both their offense and defence looked good. Rupinder also failed to convert a series of penalty corners. Japan were rewarded for their improved performance as Hiromasa Ochiai scored second goal for Japan.
India, after taking that impressive lead in the first half, took it easy during the third quarter. But one should credit Japan for taking their game to the next level, putting pressure on India as well.
After taking it easy in the third quarter, India started the final 15 minutes with a bang as Rupinder, once again, converted a penalty corner to mark India's eighth goal. Sharp movement by Indian players was making it tough for Japan as they earned another penalty corner, and Rupinder did not make any mistake in converting his sixth of the night.
India were applying some huge pressure on Japan's defence, with Sardar Singh providing some beautiful balls to his forwards. With such constant pressure, Yousuf also managed to score a field goal, which was India's 10th goal of the match in the 50th minute.
India looked hungry for goals despite having an eight goal advantage over Japan with 10 minutes left to play. India could have scored more goals had Japan goalkeeper not come up with some massive saves in the final seven minutes.
India will play South Korea in their next game on Saturday.