India created history at the Asian Athletics Championships 2017 by scooping up the most number of gold medals and deservedly, topping the 45 country-list.
Call it getting lucky thanks to the likes of powerhouses Japan, Qatar and China fielding their 'B team' for the four-day athletics meet in Bhubaneswar, fact remains that the strong 95-member Indian contingent gave their best performance ever in the event's history.
READ: Exclusive chat with golden long-distance runner G Lakshmanan
The tally of 29 medals -- 12 golds, five silvers and 12 bronzes -- has broken every other previous record India held.
India's previous best was 22 overall medals (10 gold, 5 silver, 7 bronze), bagged at the 1985 Jakarta edition.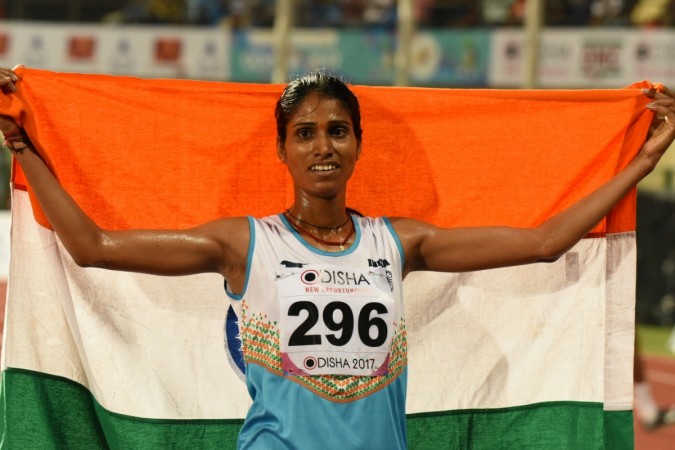 Let us now look at the list of winners
GOLD
| | |
| --- | --- |
| Athlete | Discipline |
| Mohammad Anas | Men's 400m race |
| Ajay Kumar Saroj | Men's 1500m race |
| G Lakshmanan | Men's 5000m race |
| G Lakshmanan | Men's 10000m race |
| Kunju Muhammed, Amoj Jacob, Arokia Rajiv, Mohammad Anas, Mohan Kumar, Sachin Roby | Men's 4x400m relay |
| Nirmala Sheoran | Women's 400m race |
| PU Chitra | Women's 1500m race |
| Sudha Singh | Women's 3000m steeplechase |
| Debashree Mazumdar, M. R. Poovamma, Jisna Mathew, Nirmala Sheoran | Women's 4x400m relay |
| Neeraj Chopra | Men's Javelin Throw |
| Manpreet Kaur | Women's Shot Put |
| Swapna Burman | Women's Heptathlon |
SILVER
| | |
| --- | --- |
| Athlete | Discipline |
| Arokia Rajiv | Men's 400m race |
| Gopi Thonakal | Men's 10000m race |
| Anu Raghavan | Women's 400m hurdles |
| Tejinder Pal Singh | Men's shot put |
| Nellickal V Neena | Women's long jumo |
BRONZE
| | |
| --- | --- |
| Athlete | Discipline |
| Jinson Johnson | Men's 800m race |
| Jabir MP | Men's 400m hurdles |
| Dutee Chand | Women's 100m race |
| Jisna Mathew | Women's 400m race |
| Sanjivani Jadhav | Women's 5000m race |
| Merlin Joseph, Himashree Roy, Srabani Nanda, Dutee Chand | Women's 4x100m relay |
| Vikas Gowda | Men's Discus Throw |
| Davinder Singh Kang | Men's Javelin Throw |
| Nayana James | Women's Long Jump |
| NV Sheena | Women's Triple Jump |
| Annu Rani | Women's Javelin Throw |
| Purnima Hembram | Women's Heptathlon |