Odisha is proving to be a lucky hunting ground for athletes from India as the country strengthened its place at the top of the medal tally with a total of 15 medals at the end of Day 2 of Asian Athletics Championships 2017.
The list includes six gold medals, two more than China as of now, and India needed only two days to surpass their 2015 tally of 13 medals.
On a soggy day on Friday at the Kalinga Stadium in Bhubaneswar, it was raining gold for India despite lacklustre showing from favourites of the day -- Amiya Kumar Mallick and Dutee Chand.
Haryana's Nirmala Sheoran won the first gold of the day by racing to title in the Women's' 400m, which was shortly followed by Muhammad Anas winning the Men's 400m event.
Jisna Mathew won a bronze in the Women's 400m event while Rajiv Arokia won the silver in Men's event.
1500m was also dominated by India as Ajay Kumar and PU Chitra won the gold in the Men's and Women's category, making it a total of four yellow metals on Friday.
Looking ahead, Tintu Luka, who impressed at 2016 Rio Games, will be involved in the 800m heats in the morning session, whereas the focus will be on the Women's relay team, who will be running the 4x100m final in the evening.
[Doordarshan Sports will provide live TV coverage of the event, live streaming will be available on DD National's official Youtube Channel]
Schedule of events with Indian participation on Day 3 - Saturday, July 8.
Morning session
1. Event: Heptathlon - 100m Hurdles
Time: 9am IST
Participants: Purnima Hembram, Liksy Joseph
2. Event: Men's Long Jump qualification
Time: 9:10am IST
Participants: Siddharth Mohan Naik, Ankit Sharma, Samsheer SE
3. Women's 800m Heats
Time: From 9:20am IST
Participants: Archana Adhav, Tintu Luka, Lili Das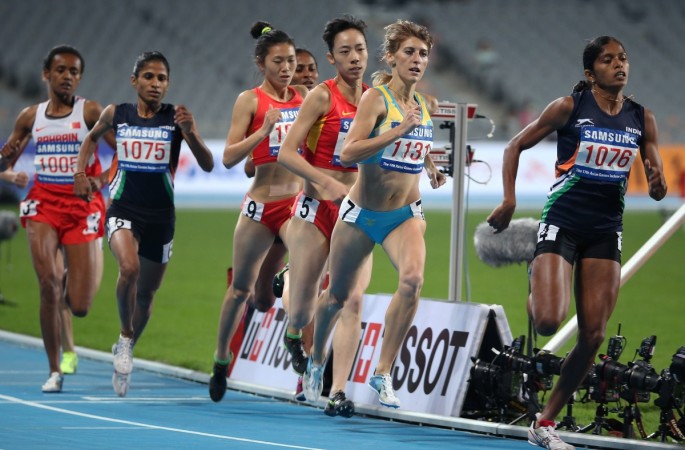 4. Women's Heptathlon High Jump
Time: 9:40am IST
Participants: Purnima Hembram, Liksy Joseph
5. Men's 800m Heats
Time: From 9:50am IST
Participants: Jinson Johnson, Vishwambhar Kolekar
6. Women's 100m Hurdles Heats
Time: From 10:30am IST
Participants: Nayana James
7. Men's 110m Hurdles Heats
Time: From 10:50am IST
Participants: Siddhant Thingalaya, Prem Kumar
---
Evening Session
1. Event: Men's Hammer Throw final
Time: 6pm IST
Participant: Niraj Kumar
2. Event: Women's 100m Hurdles Final
Time: 6pm IST
Participant: Qualifiers from morning's heats
3. Event: Men's 110m Hurdles Final
Time: 6:15pm IST
Participants: Qualifiers from morning's heats
4. Men's High Jump Final
Time: 6:25pm IST
Participants: Chethan B, Ajay Kumar
5. Women's Heptathlon Shot Put
Time: 6:30pm IST
Participants: Purnima Hembram, Liksy Joseph
6. Event: Women's 3000m Steeplechase Final
Time: 6:30pm IST
Participants: Sudha Singh, Parul Chaudhary
7. Event: Women's Triple Jump Final
Time: 6:35pm IST
Participants: Joyline Mural Lobo, Sheena NV
8. Event: Men's 3000m Steeplechase Final
Time: 6:45pm IST
Participants: Durga Bahadur Budha, Naveen Kumar
9. Event: Men's 200m Heats
Time: From 7:50pm IST
Participants: Amiya Kumar Mallick
10. Event: Women's 400m Hurdles Final
Time: 8:35pm IST
Participants: Anu R, Jauna Murmu, Arpitha M
11. Event: Men's 400m Hurdles Final
Time: 8:35pm IST
Participants: Jabir MP, Santhosh Kumar, Durgesh Kumar Pal
12. Women's 4x100m Relay Final
Time: 9:10pm IST
Participants: Dutee Chand, Srabani Nanda, Merlin Joseph, Reena George, Ruma Sarkar, Himashree Roy
13: Men's 4x100m Relay Final
Time: 9:20pm IST
Participants: --
14. Women's Heptathlon 200m
Time: 9:30pm IST
Participants: Purnima Hembram, Liksy Joseph