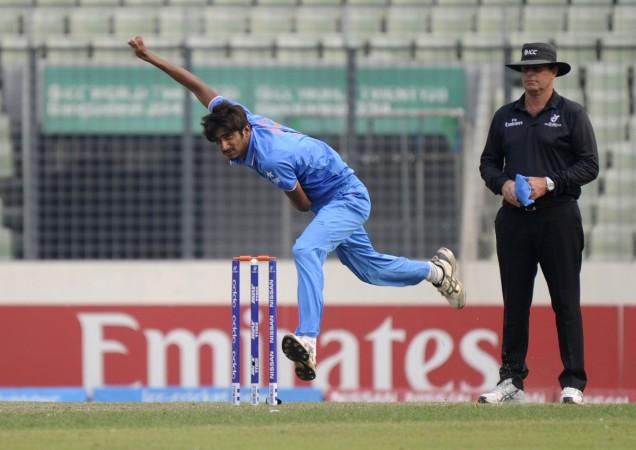 India's Asia Cup squad has a new face - rookie pacer Khaleel Ahmed. The 20-year-old left-arm pacer was a surprise selection in the Indian squad for the ODI tournament to be held later this month in Dubai.
Many had expected Mohammad Shiraz to be called back to the team but with Khaleel now having made the cut, all eyes will be on him. The young fast bowler is touted to be a pace sensation and has been on the radar of the selectors for a while.
"Yes there are 2-3 slots that we are yet to finalise. One is a left-handed seamer's slot where we are looking at the slot and we are looking at Khaleel, MSK Prasad, chairman of the selection committee, said.
It is apparent that Khaleel will be given his opportunities in the next games for India to make his mark. But who is Khaleel Ahmed and how has he suddenly burst into the scene?
Hailing from the small town of Tonk in Rajasthan, Khaleel is a promising young bowler, who first came to notice in the 2016 U-19 World Cup for India where he impressed everyone with his ability to generate great pace and bounce.
In a relatively short career so far, Khaleel has played two First-Class matches for Rajasthan along with 17 List- A and 12 T20 games. Khaleel also represented the Sunrisers Hyderabad (SRH) earlier this year in the IPL where he was bought for a price tag of Rs 3 crore but played only one game.
The young pace bowler has been in good nick recently. During the India 'A' tour of England, he returned with a match haul of 3-48 in a 50-over match between England Lions and India 'A' at The Oval that helped his team to victory. In the last month's India A Team Quadrangular Series match at Bengaluru, he produced a fine spell of 3-45.
Khaleel's great ability is known to be his raw pace and the odd angle he creates because of being a left-armer. This is what makes Khaleel an exciting prospect. While he hasn't taken hordes of wickets yet, he has impressed in whatever little opportunities he has got.
"He's a bowler to watch out for. He has the ingredients to develop into a match-winner," former Indian fast bowler Zaheer Khan was quoted as saying by The Hindu.
Such praise coming from one of the best left-arm pace bowlers of India is significant indeed. It remains to be seen if Khaleel can live up to the promise. however, in a country that is bereft of good pace bowlers, Khaleel's name does excite everyone and hopefully, he would be able to leave a mark in the coming days.