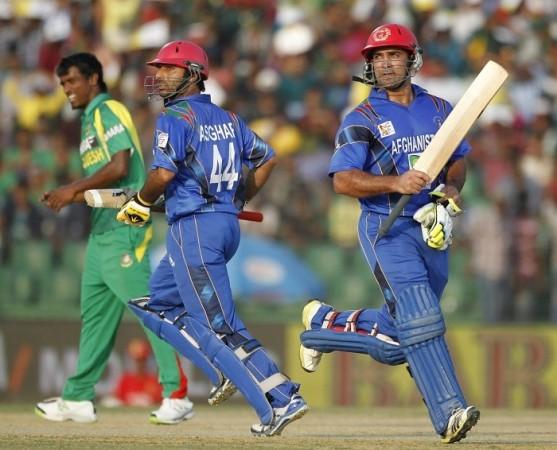 Afghanistan were expected to just make up the numbers in this Asia Cup 2014. However, after giving Pakistan a scare, the brilliant Associate side, pulled off a momentous upset, toppling hosts Bangladesh to pick up their first ever victory in the Asia Cup at just the second time of asking.
Courtesy a stunning attack from Samiullah Shenwari and Asghar Stanikzai, Afghanistan posted a quite competitive 254 for six in their 50 overs, with Bangladesh then falling prey to some enthusiastic Afghanistan bowling and catastrophic batting to go down by 32 runs, finishing on 222 all out.
Disaster struck right from the off for Bangladesh with Shapoor Zadran getting one to nip back in the first over and finding the timber to dismiss Shamsur Rahman.
Six balls later Hamid Hassan sent the other Bangladesh opener Anamul Haque, as the home team were placed firmly behind the eight ball from the beginning.
Mushfiqur Rahim, who scored a brilliant hundred against India, albeit in a losing cause, and Mominul Haque looked to stead the ship for the home side, putting on 68 runs for the third wicket as Bangladesh looked to climb back into the match.
However, a questionable lbw decision in the 19th over, turned the tables completely in Afghanistan, the associate nation's, favour, with Rahim (23, 42b, 1x4) having to walk back after being struck on the pads by skipper Mohammad Nabi.
Mominul (50, 72b, 6x4) got to his fifty, but got out soon after, falling to the guiles of Shenwari, who castled the left-hander.
Nasir Hossain (41, 60b, 1x4, 1x6) tried his best to get out, giving chance after chance to Afghanistan, with the right-hander dropped four times, before his luck finally ran out as he cut the ball straight to Shenwari at point off Mirwais Ashraf.
The cookie crumbled quickly as Bangladesh, who also had an injured Sohag Gazi to worry about, went from 161 for four to 165 for eight, with another 90 runs needed from less than ten overs.
Ziaur Rahman looked to counter-attack -- not like he had any other choice -- bringing the target down to 70 from the final eight overs. Afghanistan's woes in the field continued as Nawroz Mangal dropped Ziaur, who then clobbered Nabi for a six to take Bangladesh closer.
However, it proved to be too steep a mountain to climb, as Ziaur (41, 22b, 4x4, 3x6) was bowled by the excellent Nabi.
Gazi bowled only three balls in the first innings, with the all-rounder splitting his webbing, but desperate times call for desperate measures and Gazi walked in at No.11, with Bangladesh needing another 50 runs from the final six overs.
Afghanistan though, held their nerve in the final stages to complete an historic victory.
Earlier, Afghanistan got to a score above 250, thanks to a blitz attack from Stanikzai (90, 103, 6x4, 3x6), the man that made a snail look like Usain Bolt in the match against Pakistan, and Shenwari (81, 69b, 10x4, 1x6).
Afghanistan were in trouble at 90 for five with almost 27 overs gone, before Stanikzai and Shenwari allied for a quite brilliant 164-run partnership in just 23 overs.
Stanikzai, unlike in the Pakistan match where he got stuck and could not find a way out, took his time before catching fire with great effect in the final ten overs. Shenwari also did the same, as Bangladesh scored a massive 107 runs from the last 60 balls, to stun Bangladesh and the crowd, who had come in expecting a comfortable win.