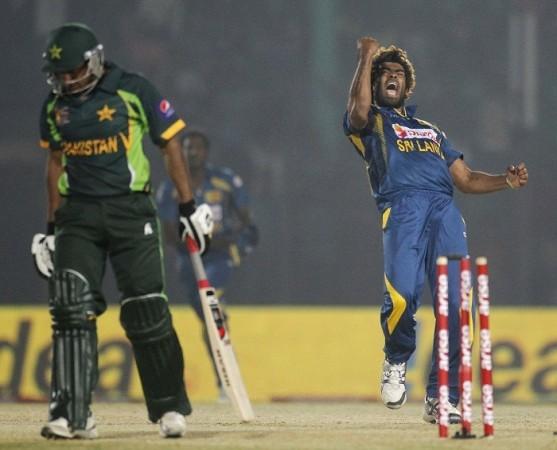 Misbah-Ul-Haq and Umar Akmal had put on 121 runs for the fifth wicket partnership when all hopes had dried in the Sri Lankan camp. Skipper Angelo Mathews was thinking his team were already 25-30 runs short while setting a gettable 297 target for Pakistan. But, their experienced seamer, Lasith Malinga, knew exactly what to do in pressure situations - he sent home Misbah and Shahid Afridi in a single over to turn the match in Sri Lanka's favour.
"When Misbah and Umar Akmal were batting, they were batting brilliantly, and we just didn't have answers to them," Mathews said. "We just had to hang in there. We knew that if we take one wicket from there the game is going to open once again, so we did that and fortunately our bowlers did it once again, Lasith Malinga took that crucial wicket, and that turned the game for us."
Kumar Sangakkara and Lahiru Thirimanne had set the platform for Sri Lanka's middle order after their 161-run stand for the second wicket in the first innings. Mathews was of the opinion that Sri Lanka kept losing wickets from thereon and couldn't capitalise on the good start which could have cost them the game had it not been for Malinga.
"I actually think that we were 25-30 runs short, to be honest," Mathews went on. "Especially with the start that Sangakkara and Thirimanne got for us, we should have got at least 325, minimum. We lost our way in the middle, we kept losing wickets and we had to consolidate in the last few overs, to set 297 target. I actually thought, if we didn't lose wickets, we could have got 325-330 easily."
Man-of-the-match Malinga himself didn't seem happy with his bowling despite a five-wicket haul. It was his sixth five-for in ODI cricket with the pacer also reaching 250 wickets.
"At the moment, I am not bowling at good rhythm but I am really happy to take the five wickets. In the last two games and the first half of today's game, I didn't bowl too well," Malinga said after receiving the man-of-the-match award on Tuesday. "But I used my variations and at the end we won the game. There was not much dew today and I concentrated on my variations, slower balls, bouncers and at the end of the day, I am very happy we won the game."
Mathews had no doubt in his mind about Malinga's bowling and said he leaves everything entirely to the pacer when he's out there with the ball in hand.
"When it comes to Lasith, he has always been our best bowler," Mathews said. "We always bank on him in pressure situations. He's been our best bowler for so many years, and we always throw the ball to him, and he knows exactly what he has to do. I was pretty comfortable with what he wanted and I always give him the option to do whatever he wants because he is very well experienced and he knows exactly what he's doing."