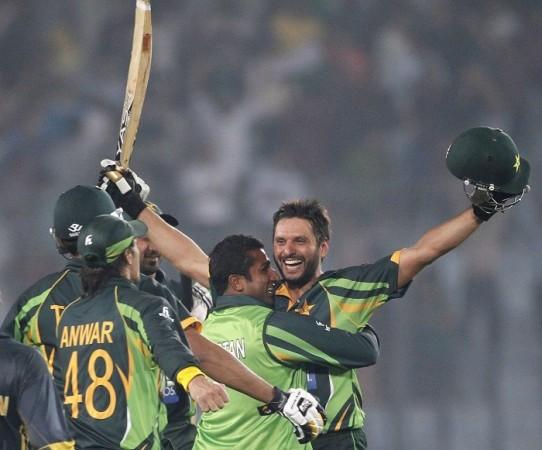 "One of his best innings," was how Pakistan skipper Misbah-ul-Haq described Shahid Afridi's match-winning knock against India in an epic Asia Cup 2014 encounter in Mirpur on Sunday.
With Pakistan's backs against the wall, after India, protecting a relatively mediocre total of 245, had fought back well, dismissing the settled Mohammed Hafeez and Sohaib Maqsood, Afridi came to the party like only he can, scoring two consecutive sixes in the final over to take Pakistan to an exciting one-wicket victory.
"We expect innings like that from him," said Misbah, who could not add too much to Pakistan's chase following another disastrous run out. "Whenever he [takes his] time in the middle and plays sensibly, he can be very dangerous.
"He already did it quite a few times, and this was one of his best innings. I think that the game was in our hands in the second-last over but after that it was quite difficult. Still, we knew that if Afridi can get the strike back, we will have a chance. He played very well. The last two sixes were tremendous."
Pakistan were backed into a corner, with Bhuvneshwar Kumar bowling a brilliant penultimate over, and then R Ashwin taking Saeed Ajmal's wicket off the first ball of the final over to put India firmly in control.
However, Afridi made Pakistan's precarious position look as easy as a Sunday morning, smoking a first six to extra cover, before getting the second over mid-on off the very next ball to send Pakistan and its fans into delirium.
"I knew that I could hit his [Ashwin's] carrom ball and I had spotted it," Afridi told Star Sports. "It was pulled back slightly but I connected it really well. He had the field set on the onside, keeping the fielders up on the offside. I thought that if I could play through extra cover, I can find runs through that region."
Afridi was under pressure to perform with the bat after a few what-was-he-thinking dismissals, and the all-rounder admitted he is much more comfortable when he has few overs to play with, like he did against India on Sunday.
"I had played some stupid shots in the previous games to get out," he added. "I know that my batting is very important to my team, so I have to be consistent in my batting. It helps the team a lot. I had to play sensibly. I wanted to bring down the [target].
"If I have 15-25 overs to bat, captain tells me to play singles and doubles. I become double-minded. It is not in my nature. The lesser the overs, I feel better and play better. I play single-mindedly. That's what makes me comfortable."
If Afridi can find this kind of finishing form with a little more consistency, then Pakistan could well find themselves defending their Asia Cup title, while also holding the aces going into the ICC World T20.