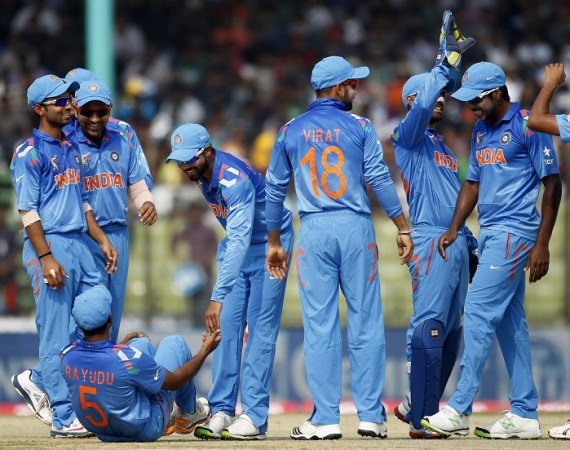 If Virat Kohli was the main reason for India's win, Abdur Razzak blamed the dew for Bangladesh's defeat.
The home team did well to set a target of 280 but, failed to defend the total. Razzak felt the dew made it difficult for the home side, but also credited the Indian batsmen for taking up the responsibility.
"It was possible to defend a good total," said Razzak, who was filling in for the injured skipper Mushfiqur Rahim during the presentation ceremony. "The big problem was the dew. It was present from probably the 22nd or 23rd over. There is no way out from playing with dew, we have to play with what we have.
"I think our bowlers didn't do too badly. Virat Kohli played really well, he did something special today. We already need to have four in the circle. At times I pulled in an extra fielder, but they still picked the singles."
India did well enough with the new ball but hardly caused any trouble when Rahim and Anamul Haque were piling up runs with handsome shots in the middle. MS Dhoni's replacement - Kohli -- was adventurous in setting fields with wide slips and unorthodox fine leg placements among many that would have been blamed had India not chased down the target which was probably 15-20 runs more than what was expected. However, India surprised everyone in the death overs bowling straight with good use of yorkers.
"On this wicket, I think the bowlers did really well," Ajinkya Rahane said. "Bhuvi and Shami later on bowled wicket to wicket and it was not easy to hit that length."
India faced no trouble sealing the victory especially when Kohli and Rahane had put on a grand show with the bat. They shared a 213-run partnership that saw India safely home. Rahane was relaxed and scored 73 from 83 balls, while skipper Kohli took just 122 balls to get to his 136.
"I was slightly relaxed and just wanted to play my game," Rahane said. "I got a hundred in the last innings in New Zealand, so I was confident during my batting. My plan was to take my time initially and then play my shots. That really worked today."
Openers Rohit Sharma and Shikhar Dhawan left without causing much effect, following which Rahane walked in. Kohli was more of the aggressor with Rahane biding his time at the crease.
"On this wicket, shot selection was very crucial," Rahane said. "It was not easy to play shots initially, the ball was keeping low. There was some odd bounce and uneven bounce. We were just planning to play straight initially and back ourselves to play our shots later on. Obviously Virat took his chances really well and that worked."