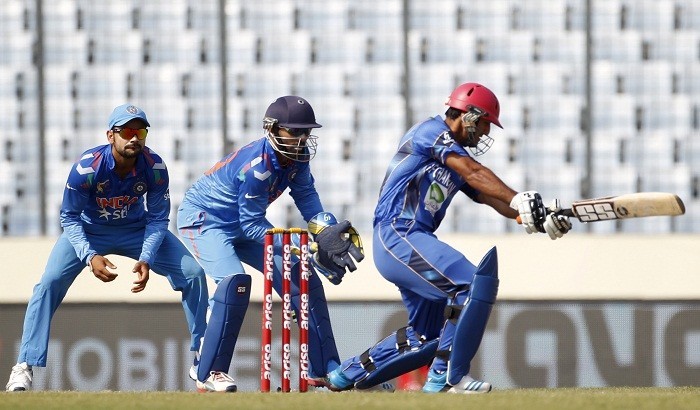 Whether it is the lack of experience or patience, India haven't been able to find consistency. Their batsmen and bowlers haven't come together as a team to take responsibility. The latent potential is not in question but the performance when it counts the most is. However, they did well putting the recent disappointments behind to take a consolation win against Afghanistan. The spinners came good, running through the debutants of the Asia Cup - Afghanistan - picking up eight wickets among them.
The five-time Asia Cup champions, India were unfortunately banking on Bangladesh to win against Pakistan on Tuesday for them to enter the final. After Bangladesh' loss, India had very little to keep their motivation going for the Afghanistan match. But, they tried their best reshuffling the batting order and pushing the lower-middle order higher-up. Skipper Virat Kohli said that patience will be followed by results.
"Someone like Ajinkya [Rahane] who has scored on and off, it is good to give them some confidence, even Dinesh Karthik was sent up the order." Kohli said about Rahane who opened the batting and Karthik who came in at No. 4. "We have to be patient with them and the results will follow.
"It was a complete performance. It was hard to motivate the team when you have been travelling and are out of contention for the final. Last night [Wednesday], we were hoping that Bangladesh wins but that did not happen. Being more relaxed worked for us, we were quite tense in the earlier games."
India lost the crucial moments in the tournament and eventually lost the matches against Pakistan and Sri Lanka. Analysing his team's performance, Kohli seemed positive.
"We started off beautifully [against Bangladesh]," he said. "We committed crucial mistakes against Pakistan and Sri Lanka and we lost the close games. Amit Mishra coming and bowling well against Pakistan was good to see. I am happy the way the team showed their character."
Talking of showing character, Afghanistan seem more familiar with the phrase. Skipper Mohammad Nabi was elated about the sparks his team created in Asia Cup. However, his only appeal was to the ICC, asking for more matches and more exposure.
"It was a great tournament for us," Nabi said. "We have proved we are a good team in Asia. If there are more matches against full members, it will be a good experience for Afghanistan."
"We didn't come to win the Asia Cup but to learn a lot from the Test nations. We won against Bangladesh, which is a big credit to Afghanistan. We have done well with bowling and fielding. Our batting in the middle part has to improve, and we will try harder."
Afghanistan will face Bangladesh in the World T20 opener on March 16. Having won an ODI already and now going into a more familiar T20 format, the Associate side are looking forward to more celebrations.
"I think we are a better T20 side, because we play a lot of this format against Associate members and also in Afghanistan," Nabi added. "Already Bangladesh is under pressure against Afghanistan, we will try our best to beat them."
Playing the 50 overs format isn't their comfort zone; however, Afghanistan will try to improve their skills before the 2015 World Cup.
"We have come to world cricket just a while ago. We need time," Nabi added. "We have a lot of camps before the 2015 World Cup, and we will bring a batting coach from Australia or New Zealand as well."