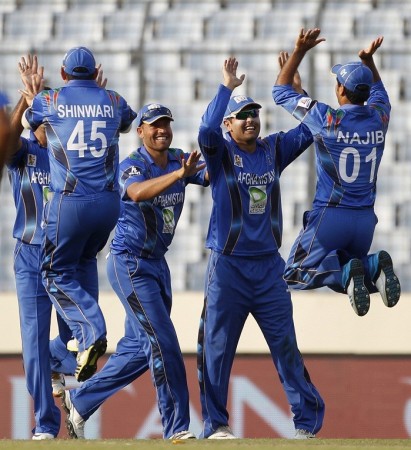 Playing their first ODI against Sri Lanka and only their fifth against a Test member, Afghanistan made a promising start with the ball restricting the opposition to 254 but failed to impress with the bat falling short by 129 runs.
After the win against Bangladesh in the previous match, Afghanistan had made believers out of doubters. Team coach Kabir Khan was positive of his team's raw talent but, to make a constant impact on the International circuit, they need to continue getting exposure against big teams.
"Well, it's the inexperience," Kabir said. "It is quality bowling, world-class bowling we were playing against, world-class fielding we were playing against. The [Sri Lanka] players, on average, would have played more than 100 matches per person, on average, and that's the difference, because they are used to this pressure, they are used to difficult conditions, and they are world class as well.
"If you compare, [Ajantha] Mendis and the fast-bowling attack, they play everywhere and they know what the name of the game is. I personally think that, I'm not saying we would have won the game, but it's the experience. If we play more matches, under pressure, against good bowling, again and again, I think results after 10 matches will be different."
Afghanistan were able to tackle the pace of Lasith Malinga and others. However, they had no answers for Mendis.
"Boys coped okay against Lasith, I think, but not against Mendis," Kabir said. "He has just got too many varieties, it's very difficult for first-timers to read them. I think Indian team, when he came in, was struggling against him, but slowly they read him and they started playing against him, and when you start playing against a player a lot, then you start understanding him as well. The problem is that this is our sixth year since we got ODI status and this is the first time we are playing an ODI against Sri Lanka."
What Afghanistan lack that other nations don't is the exposure in junior level and first-class cricket. Being an Associate member, the team should ideally be set up against other Associate members often in the four-day matches so that they improve their quality of cricket. Teams like Ireland have players who have done well in County cricket; playing against quality teams is what will help players learn.
"Intercontinental cup helps, but if you look at it, you play eight four-day matches in two years, so it's not enough," Kabir continued. "If you look at it that way, it's very good for us, that we are playing four-day cricket, but if you play eight matches in two years or two-and-a-half years, you play three or four matches per year. In countries like Bangladesh, Sri Lanka, Pakistan or India, you play 14 to 15 matches or maybe 16 first-class matches in one season, within four or five months. So that's the difference."
Kabir was concerned about his team's batting. It's not talent they lack but experience and patience playing for 50 long overs.
"In this tournament, if you see, our bowling has done a lot better than other's bowling," he said. "When Sri Lanka is playing against India or Pakistan, each of the Test teams when they are playing each other, the minimum score is 270-plus, and our team is restricting each and every team below 255 or 250 and that sort of total. That shows that the bowling is doing really well, and the fielding is helping a bit.
"It's the batting that we want to develop more, and it will come only with experience and playing more 50-over games. We are good at T20s, and you can see that. The boys like to play strokes. The boys don't control their innings with singles and twos, they like to hit boundaries. But developing an innings and playing 50 overs, it will take time and it will only come with time and experience."
Afghanistan's display of variety and control in their bowling attack attracted words of praise from the Sri Lanka captain Angelo Mathews. Samiullah Shenwari's legbreak is well complimented by Mohammad Nabi and Hamza Hotak, according to the skipper.
"Their bowling attack is very good," Mathews said. "They are as good as the other teams as well. Really good fast bowlers, and some really good spinners, so it wasn't very easy for us to score off them as well, and the wicket was also pretty slow. But they gave us nothing away and we had to really work hard to get all the runs."