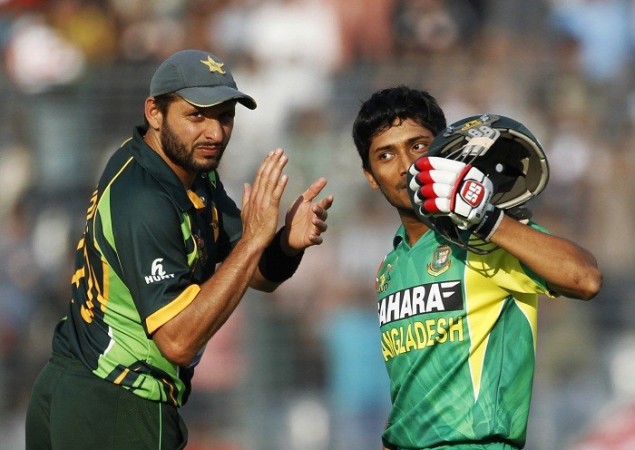 It was the third time Shahid Afridi reached a half century in just 18 deliveries - the second fastest in ODIs [the fastest record is held by Sanath Jayasuriya who scored a 50 in 17 balls against Pakistan in 1996]. His 29-ball 59 helped Pakistan in their highest run chase after Bangladesh posted their highest ever ODI score of 326. So many records set and broken only hints what's coming up in the final where Pakistan face Sri Lanka.
Afridi's boom boom continued from the match against India and skipper Misbah-ul-Haq hopes it'll continue not only in the final of the Asia Cup but also through the World T20 coming up in a couple of weeks' time.
"I think that's the biggest plus for us, the way Shahid Afridi is playing, not only in this final, but also T20 World Cup is coming, so he's the main player, and the kind of form he is in, the kind of confidence, it's good for the Pakistan team," Misbah said.
Afridi hit seven huge sixes and kept patience when there were good deliveries thrown at him. He was also taking the singles while keeping the scoreboard ticking, with his overall performance deservedly winning him the man-of-the-match honours, despite there being two centurions in the game.
"We know that when he plays 20-25 balls, he can score 50," skipper Misbah said of Afridi. "I think that's what he's doing, and I'm really happy with the way he's playing."
It wasn't Afridi alone who won the match for Pakistan. There were useful contributions higher up in the batting order with a well-planned century from Ahmed Shehzad, who also shared an important 97-run opening stand with Mohammad Hafeez.
"Not only Shahid Afridi, but also the way Fawad Alam [74 runs] and Ahmed Shehzad [103 runs] played," Misbah added. "After his 50, the way he picked up the run rate, it was almost 10 an over and he brought it down to 8, and then well supported by Fawad Alam, and the start of Hafeez [52 runs] was also crucial, and Shahid Afridi. I think all of them played much-needed knocks, and Umar Akmal finished it well. In the end, it was a great combination of all these batsmen who really won us the game."
Saeed Ajmal came good for Pakistan in his first six overs giving away only 9 runs. But, his last four overs took a beating giving away 52 runs - his most-expensive spell in the subcontinent. Talking of Pakistan's bowling, Misbah was happy it all ended well.
"We have a world class bowling attack and even they couldn't stop Bangladesh so we knew we can score 10 an over if needed," Misbah said.
This was the first time that all the top four batsmen clicked and reached their half centuries for Bangladesh. Skipper Mushfiqur Rahim said his team had a lot to take from this game despite the loss.
"I thought after the last couple of games, we got a good start from the openers and we finished the batting well too," Mushfiqur said. "But when Afridi plays like that, he hit our best bowler, Shakib for three sixes in an over, there was very little we could do.
"We were hoping for a mishit and unfortunately I dropped one but thankfully he was out soon after. We bowled a few length balls at the wrong time but overall we played much better than the last few games and we can take a lot of positives from this game."