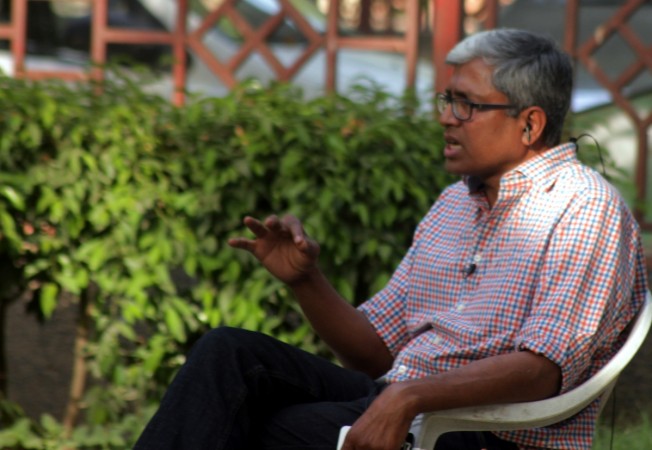 AAP leader Ashutosh's sobbing act on TV while talking to Gajendra Singh's daughter Megha during a live TV interview has not gone down well with social media users, who started a hastag on Twitter and ridiculed him for shedding "crocodile tears".
"I am your guilty, Megha. I could not prevent the death of your father... I hope you are able to forgive me for your father's death,"Ashutosh said during a live interview with Gajendra Singh's daughter on Aaj Tak, India Today reported.
Sounding apologetic for not being able to prevent Singh from hanging himself from a tree during a farmers' rally organised by the Aam Aadmi Party (AAP) in Delhi on Wednesday, teary-eyed Ashutosh also said Gajendra Singh's death should not be "politicised."
"I didn't enter politics for this kind of blame game. I want to request Rajnath Singh, Ajay Maken and Sambit Patra to stop politicising the death of a farmer," Ashutosh said.
However, there seem to be no takers for his "drama" on live TV, as Twitter was soon flooded with tweets with the hashtag #AshuCries.
They lashed out at the former journalist and asked to stop shedding "crocodile tears", besides taking potshots at him.
Wasting air time on #ashucries , instead go live for 7 days from farms across the nation, show both bad & good! More to India than the drama

— chidanandVH (@ChiduVH) April 24, 2015
RT for crocodile, fav for Ashutoh #AshuCries pic.twitter.com/kxDsskkA23 — Ishant Sharma (@CrimeMasterV2) April 24, 2015
Crocodiles to hold Dharna against Ashutosh for shedding Crocodile tears that too being a snake...a black snake #ashucries

— TEAM INDIA (@tushar121212) April 24, 2015
Wasting air time on #ashucries , instead go live for 7 days from farms across the nation, show both bad & good! More to India than the drama — chidanandVH (@ChiduVH) April 24, 2015
Politics is getting new low thanks to kejri&co. Aapinfight,stings,drama,emotional drama,apologies aap is worse congress #AshuCries — vilasachandran (@vilasachandran1) April 24, 2015
Meanwhile all crocodiles have started giving dharna on jantar mantar #ashutoshCries #ashucries #farmer

— Mohit Khushlani (@being_Sarcast1c) April 24, 2015
@ashutosh83B why don't u understand there is a VERY fine line between "regretting on camera" and "tamasha" #AshuCries — Aniket (@ani4917) April 24, 2015
Can't handle dis Nautanki any more.. Seriously #AshuCries https://t.co/i39jE80bHB

— Pinky Rajpurohit (@Madrassan) April 24, 2015
#AshuCries I guess they really are underestimating the intellect of common man. Plz stop d melodrama. — Malvika Thakur (@thakurmalvika) April 24, 2015
Big Boss is not disappointed with the performance. #AshuCries Big boss is calling!

— Harshvardhan Patel (@harshvb) April 24, 2015
First Laugh at dead farmer, then blame BJP & Police, if nothing works, Apologise & Cry Foul #AshuCries #ResignKejri pic.twitter.com/Dgt0dumJdT

— Tejaswini (@tejsi12) April 24, 2015
#AshuCries ..its really reminds me story about crocodile tears. #Dramacomany again starts to do drama rather then doing work in Delhi govt. — Bhrugesh Thakkar (@Bhrugu4u) April 24, 2015
Clowns of AAP, @ArvindKejriwal and @ashutosh83B. #AshuCries

— Charan Kumar (@iCherryy) April 24, 2015
Ekta kapoor be like....Wahhh waahhh !! Tu kaha chuppa baithaa thaaa !! #AshuCries pic.twitter.com/GRQJmKxOAu

— Ankit Gupta (@iankitg) April 24, 2015
KJo is impressed wth #Ashutosh's performance & has offered him a role in movie titled 'Crocodile tears' #AshuCries pic.twitter.com/a0m0w84XPQ — PIC Rascal (@PICRascal) April 24, 2015
#AshuCries Ashutosh learnt to cry sitting at the feet of the original cry master pic.twitter.com/FtwzPKx7bG

— Wideawakegentile (@The_Indian_Goy) April 24, 2015