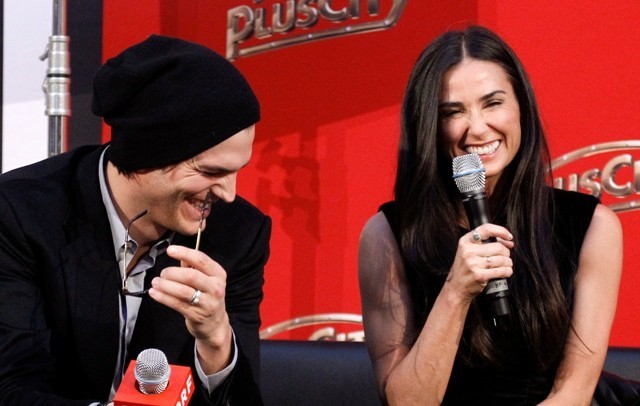 It is Official! Ashton Kutcher and Demi Moore have legally parted ways for good. Several sources are reporting that the estranged couple have finalized their divorce, Tuesday, Nov. 26 in a Los Angeles Superior Court.
The former couple tied the knot in 2005 and separated in 2011, after which Kutcher filed for divorce in December 2012, citing irreconcilable differences, according to USA Today.
In March, Moore had claimed financial support from Kutcher, much to everyone's surprise. However, on Tuesday, both the stars declined paying spousal support.
"Ashton's been waiting for his divorce to be over for a long time. He was annoyed it took so long. It was hanging over his head," a source close to Kutcher told the People Magazine.
Now that things are done and over with between Moore and Kutcher, looks like the latter can focus more on his current relationship with his "That 70's Show" co-star, Mila Kunis.
The couple has reportedly spoken about getting hitched and hope to get engaged soon.
"Ashton and Mila have talked about getting engaged and married for quite awhile. He wants to get engaged during the holidays," another source told the publication.
Kutcher and Kunis were first spotted together in April 2012. However, reps for both the actors claimed that they were "just friends". Over time, the lovebirds were spotted wining, dining and putting on some considerable amount of PDA in New York City and overseas as well.
Since then, Kunis and Kutcher have been on the rumor mill constantly. Sometime in September, word was out that the couple were engaged after a gold band was spotted on Kunis's ring finger. However, several sources rubbished the rumors, reports Entertainment Wise.
Bonus Fact: Kutcher was apparently Kunis's first kiss! Though it was for the script of "That 70's Show", it still was a kiss!
For now, the tabloids are ablaze with speculations of Kunis being pregnant. News.com explains that the "Black Swan" actress's baggy clothes and Kutcher acting like a maniac when Kunis is around could be some of the reasons that the speculations persist.
Also, it looks like Kunis really gets along well with Kutcher's family.
She was recently spotted shopping at a local grocery store in Los Angeles with Kutcher's mother Diane. The two ladies were seen leaving the store with a cart full of goodies for Thanksgiving (probably!). After Kunis helped Diane unload the stuff, they quickly drove away from there, reports E!Online.