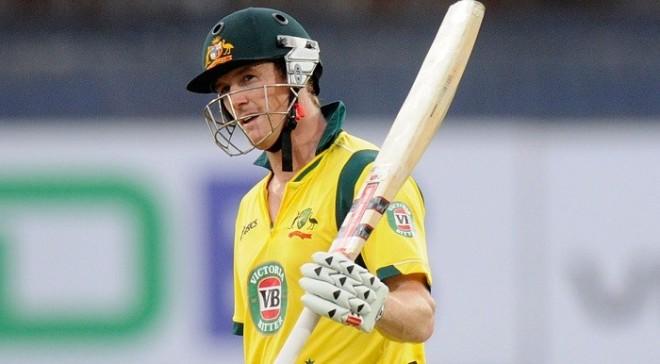 The ODI series between India and Australia turned out to be quite important after all - at least for George Bailey and Mitchell Johnson, who on the back of strong performances in the seven-match slug-fest found a place in the Ashes squad.
Bailey was the standout performer with the bat for Australia in the recently-concluded epic one-day series against India, and only Virat Kohli has scored more one-day runs than the Aussie right-hander, who has an outstanding average of 54.96, over the past year.
However, Bailey's poor recent first-class form was thought to be a major issue, but seeing the way he led Australia in India, the selectors had little choice but to select the impressive 31-year-old.
"We have included George Bailey in this lineup and are excited by what he can offer at Test level," selector John Inverarity said. "George has shown outstanding international form over the past 20 months, including the recent limited-overs series in India. He is calm and composed and comes into the squad full of confidence.
The final batting selection was between Bailey and Tasmanian Alex Doolan, and Inverarity admitted there was quite a bit of discussion over who to pick, before eventually settling on the former, who will now most probably make his Test debut in the first Test at The Gabba.
"It was certainly discussed at great length last night," Inverarity revealed. "Alex Doolan is a very highly-regarded player in our eyes ... George Bailey has been in fantastic form with the bat. His confidence is riding high. His performance in international one-day cricket has been quite extraordinary and he's very deserving of his opportunity."
The other major inclusion is the return of Johnson, who caused the Indian batsmen, on flat wickets, quite a few problems with his searing pace, which regularly crossed the 150 km mark.
Australia skipper Michael Clarke, who had to sit out that one-day series in India due to a back problem, was pretty impressed with Johnson's control. "I think he's bowling a lot more consistent at the moment," Clarke said. "His pace is certainly high, which is a great start.
"But it doesn't matter how fast you bowl, if you don't know where they're going it's always easy to face as a batsman. I think Mitch has that control. He showed that in the one-day format. I said a couple of days ago if Mitch was selected in this squad, it wouldn't surprise me if in a couple of months' time you see Mitch being Man of the Series."
James Faulkner also makes the final 12, and could find a place in the first XI, if Shane Watson finds it difficult to bowl after picking up a hamstring injury in the final one-dayer in India.
"He [Faulkner] has been a cricketer we've had our eye on for a long time," Inverarity said. "He impresses us with his batting and with his bowling and with his attitude, and his uncanny ability to have an impact on almost every game he plays. If you give him the ball, he always seems to be able to conjure up a wicket, when he goes out to bat he has the knack of forming a partnership ... we have high hopes for him."
The first Test between Australia and England starts on 21 November at The Gabba in Brisbane,
Squad: Michael Clarke (capt), Chris Rogers, David Warner, Shane Watson, Steve Smith, George Bailey, Brad Haddin (wk, vice-capt), Mitchell Johnson, Peter Siddle, Ryan Harris, James Faulkner, Nathan Lyon.