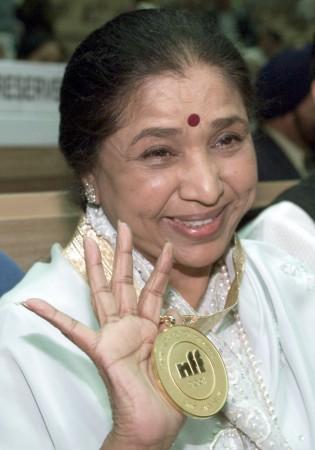 The legendary Indian singer Asha Bhosle turns 78, Thursday. She celebrates her birth day dubbing for her Bollywwod debut film "Maanee".
She was born on Sept. 8, 1933, in the turmeric city of Maharashtra, Sangli.
Asha was the voice behind Bollywood super tracks like "Dum Maro Dum" (Hare Rama Hare Krishna, 1972), "Piya Tu Ab Toh Aaja" (Caravan, 1971) and "Chura Liya Hai Tumne" (Yadoon Ki Baraat, 1973.)
During her six decade long career span, she had sung over 12,000 songs and the World Records Academy recognized her as the "Most Recorded Artist" in the world, in September 2009.
The Government of India honored her with the Dadasaheb Phalke Award in 2000 and the Padma Vibhushan in 2008.
'Happy Birth Day To You Asha Jee....'