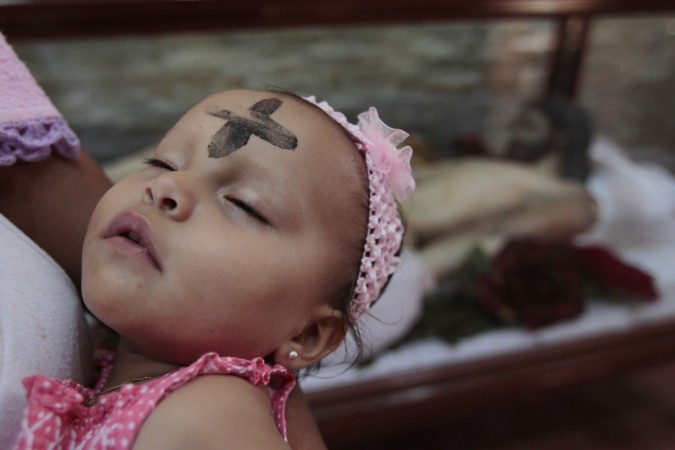 Ash Wednesday is the first day of the lent season prior to Easter and is being observed by Anglicans, Lutherans, Methodists, Presbyterians and Roman Catholics on Feb. 10, this year.
During the lent, Christians fast for 40 days (excluding Sundays) as a preparation for Easter, which is the celebration of the resurrection of Jesus Christ. Meanwhile, for Eastern Orthodox Christian, Saint Thomas Christians of India and Eastern Catholic churches, the first day of lent was observed on Monday, 8 February, and is known as Ash Monday, Monday of Lent or Green Monday.
As part of Ash Wednesday/Monday, devotees apply black ashes in the shape of a cross on the foreheads as a symbolic representation sign of repentance.
According to the gospels, Jesus spent 40 days of fasting in the Judaean desert after being baptised, during which Satan tried to tempt him many ways. The incident is mentioned in the gospels of St Matthew, St Mark, and St Luke.
Check Blessed Ash Wednesday Picture Messages
According to Matthew 4: 1-4

Then Jesus was led by the Spirit into the wilderness to be tempted[a] by the devil. 2 After fasting forty days and forty nights, he was hungry. 3 The tempter came to him and said, "If you are the Son of God, tell these stones to become bread."

4 Jesus answered, "It is written: 'Man shall not live on bread alone, but on every word that comes from the mouth of God."
According to Matthew 4: 5-7

5 Then the devil took him to the holy city and had him stand on the highest point of the temple. 6 "If you are the Son of God," he said, "throw yourself down. For it is written:

"'He will command his angels concerning you,
and they will lift you up in their hands,
so that you will not strike your foot against a stone."
7 Jesus answered him, "It is also written: 'Do not put the Lord your God to the test."
According to Matthew 4: 8-11

8 Again, the devil took him to a very high mountain and showed him all the kingdoms of the world and their splendour. 9 "All this I will give you," he said, "if you will bow down and worship me."

10 Jesus said to him, "Away from me, Satan! For it is written: 'Worship the Lord your God, and serve him only."

11 Then the devil left him, and angels came and attended him.
Check our some greetings to be shared on Ash Wednesday below: