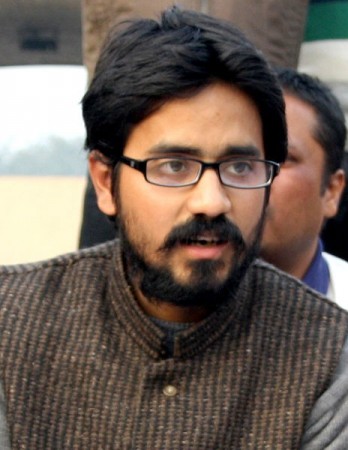 The arrest of anti-corruption cartoonist Aseem Trivedi on charges of sedition over insulting India's national symbols on Sunday sparked outrage across the country. Supporters of the cartoonist have come forward claiming that the arrest is politically motivated and the entire scenario has been staged to disrupt the anti-corruption movement of Anna Hazare.
Following the issuance of a non-bailable arrest warrant by a court, Trivedi was arrested by the Mumbai police for illustrating obscene cartoons that insulted the constitution as per the complaints filed by many petitioners. He had exhibited his cartoons in the anti-corruption protest staged by Anna.
The Kanpur-based political cartoonist, who denied keeping a lawyer for him, seemed rebellious outside the court.
"If telling the truth makes me traitor then I am one. Even Mahatma Gandi was called traitor and if I am booked under sedition for doing service to the nation then I will continue to do so," he uttered before getting into the police vehicle after the court remanded him till Sept 16.
The arrest of Trivedi for making political satire is claimed to be a deplorable act and has been condemned strongly. Justice Markandey Katju, Press Council of India chairman, condemned the arrest and said the cartoonist has done nothing illegal.
"From the information I have gathered, the cartoonist did nothing illegal, and in fact, arresting him was an illegal act. A wrongful arrest is a serious crime under the Indian Penal Code Section 342, and it is those who arrested him who should be arrested," he said according to The Hindu.
He further added that the act of arresting innocent people itself a crime, and the officers who carry out the arrests should be admonished for their wrongdoings.
"Police officers, who obey such illegal orders of politicians, should be put on trial and given harsh punishment, just like the Nazi officials at the Nuremberg War Crime Tribunal," he added.
Ashok Trivedi, the cartoonist's father, said his son grew up with national values and was thus incapable of committing such treachery to the country.
"My son has done no wrong. He was only expressing his opinion and certain people have misunderstood his work. He was only showing how corruption has plagued the system. Only the truth," Ashok said according to Hindustan Times.
Several people also voiced their support of the cartoonist through social media websites. Anti-corruption activist Kiran Bedi tweeted "Cartoons are an expression of reality. Instead of reacting by use of state power, why not consider these as an opportunity to reflect?"
Twitter users even requested other users to replace their wall posts and profile pictures with the cartoons that brought to light the atrocities of the politicians and bureaucrats in the country.