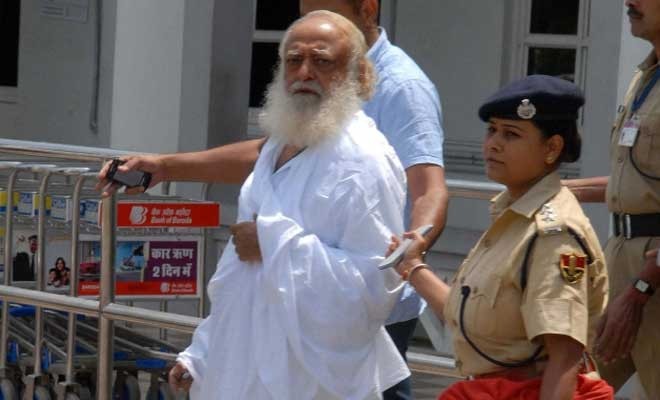 The Supreme Court on Tuesday said that the medical condition of self-styled godman and rape accused Asaram Bapu was stable and that there was no urgency in dealing with Asaram's interim bail petition.
Asaram had approached the apex court for a bail plea citing medical ailments earlier and the SC on August 11 had denied him an interim bail in a rape case. The top court had also directed AIIMS to formulate a medical team to ascertain Asaram's health condition before hearing his regular bail plea.
Asaram was arrested on August 31 2013 after a minor girl alleged that Asaram sexually assaulted her at his ashram in Manai village near Jodhpur. The teenage girl from Uttar Pradesh was a student living in his ashram. The self-styled godman has been in jail ever since.
"The petitioner is suffering with the chronic disease of trigeminal neuralgia for which he needs to undergo medical treatment which is not available at district hospital, Jodhpur, and for which he needs to be treated at any speciality hospital," Asaram's petition had said.
The SC bench said that it would not pass any order on Asaram's bail plea without hearing the Rajasthan government's stand on it. The apex court then subsequently issued a notice to Rajasthan government to file its response regarding the plea within a week.
A medical board of All India Institute of Medical Sciences (AIIMS) last week told the SC that Asaram Bapu's health condition was stable. In the report filed by the seven-member medical board, it had said that Asaram had refused to undergo several of the tests.
"Finding from the extent of completed evaluation reveal petitioner's (Asaram) medical condition as 'stable'. However, coronary, carotid and prostate evaluation remained incomplete as the petitioner refused to undergo the requisite tests," the AIIMS report said.