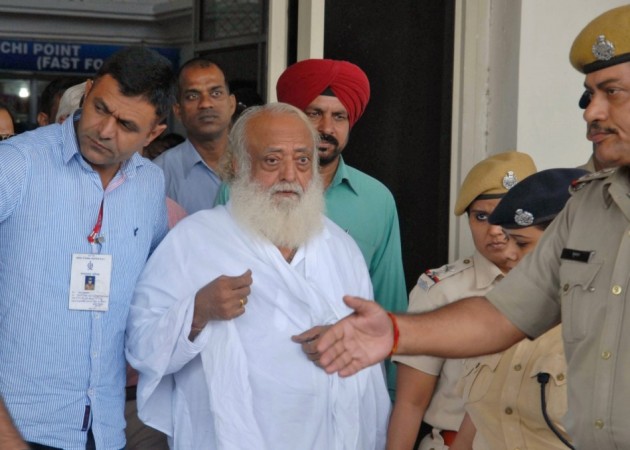 Self-proclaimed godman Asaram Bapu, who is currently in police custody till 15 September in a sexual assault case, seems to be embroiled in several illegal land deals and tax frauds.
At least four new cases have cropped up against him in Ghaziabad in Uttar Pradesh, New Delhi, Surat district in Gujarat and Pune district in Maharashtra.
In Ghaziabad, his ashram was served with a notice of non-payment of property tax, water bills and sewer tax last month. On Tuesday, the Ghaziabad Nagar Nigam (GNN) was mulling the option of imposing a bill of ₹5.86 lakh on the ashram, Municipal Commissioner RK Singh told PTI.
In Surat, an alleged land-grabbing case surfaced against Asaram's ashram authorities on Tuesday. The villagers told DNA that the ashram authorities tried to acquire Shiva temple at Tajpore Bujrang village in Bardoli taluka by placing Asaram's picture there. The village panchayat also alleged that the ashram was illegally constructed.
"We are collecting all land records from villagers, including revenue number and survey number. According to our knowledge, the ashram's claim that land was donated by the government is false," said Paresh Patel, a panchayat member.
In Delhi, a tax fraud case against Asaram's ashram sprung up on 5 September. His Delhi ashram was served with a notice by North Delhi Municipal Corporation (NDMC) for not paying property tax since 2004.
The NDMC conducted a survey of the ashram on 2 September and found that Asaram's commercial items like books and ayurvedic medicines were being sold inside the centre.
"Under the Delhi Municipal Corporation Act, religious places are exempted from payment of property tax and no commercial activities could be carried out on such land. But, in this case, ashram was found indulged in carrying out commercial activities," NDMC public relations officer Yogendra Singh Mann had told PTI.
Moreover, in Kalegaon of Pune district, 2006 land deals have come to haunt Asaram's Shree Hari Om Seva Sanstha. According to the Indian Express, 20 people have accused the trust of failing to allot plots bought by them under a land scheme by the Sanstha. Each one in the group paid about ₹70,000 in advance for each plot in 2006.
This is not the first time Asaram had land encroachment cases against him. In January, the Serious Fraud Investigating Office (SFIO) sought his prosecution in a ₹700 crore land-grabbing case in Madhya Pradesh.
Asaram was arrested last week on charges of sexually assaulting a minor at his Jodhpur ashram. He is expected to appear before the sessions court in the city on 10 September.