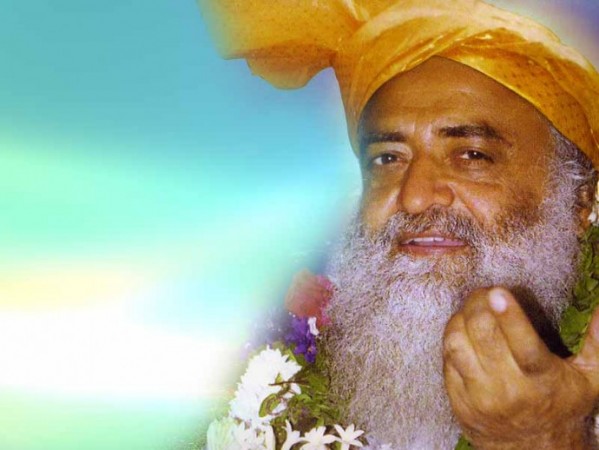 Asaram Bapu, the self-styled godman was reportedly hiding in his Indore ashram when a joint team of Jodhpur and Indore Police entered the premises. He is being currently questioned by the cops and might soon be arrested as the deadline for him to appear before the police for questioning in connection with the alleged rape case filed against him has expired.
When Jodhpur Police reached Bapu's Bhopal Ashram on Saturday, they were shocked to learn that the spiritual guru had fled the city on Friday night itself with his son Narayan Sai. According to a report by Press Trust of India, they were spotted in a sport utility vehicle at the Dewas Toll Naka near Indore.
Asaram was supposed to appear before the Jodhpur Police on Friday in an alleged sexual assault case filed against him by a 16-year-old girl. He has been evaded the police since then.
Things got even uglier on Staurday when supporters of the spiritual leader attacked two journalists outside his Jodhpur ashram. The cameraperson, who was attacked, is in critical condition and has been admitted to ICU section of a Jodhpur hospital. The supporters of the self-styled godman reportedly lashed out on the mediapersons over the issue of addressing the accused as 'Asaram' instead of 'Asaram Bapu' on camera.
Here are the latest developments
Jodhpur Police deployed police personnel outside Asaram's Jodhpur ashram to avoid further such incidents.
The Police detained six persons in connection with the attack on journalists.
In Indore, a massive team of 300 police officials have been deployed outside Asaram's ashram to prevent a repeat of attack on media personnel.
In view of an expected counterattack from Asaram's supporters that might follow once he is arrested, crowd-control measures like water-cannons are also believed to be in place.
As per reports, Asaram has applied for an anticipatory bail at an Indore court.
The father of the teenage girl has begun a fast-unto-death since Saturday afternoon and refused to break it till Asaram is arrested.
Information and Broadcast Minister Manish Tewari condemned the attack on mediapersons. "Those people who are the followers of a religious preacher who preaches peace would react in a manner which is so violent. There can be no provocation for any individual for not liking their views, I am sure the Rajasthan government will take action," Tewari said.
Congress spokesperson Digvijaya Singh lashed out on Leader of Opposition Sushma Swaraj on microblogging site Twitter. "Strongly condemn attack on Media by Asaram Bapu's followers in Bhopal and Jodhpur. Why can't he face the Rajasthan Police if he is innocent? The most vocal voice of BJP against atrocities against women has been Sushma Swaraj. Why is she quiet in Asharam Bapu's case?"
CNN-IBN Editor-in-chief Rajdeep Sardesai confirmed that the company had filed an FIR. "Our journalist, cameraman, OB van was attacked, it was a criminal act. Attack on media shows the fear and cowardice of Asaram's supporters. Its disgraceful," he told ANI
Janata Dal United President Sharad Yadav said, "Asaram ke bhakt media walon pe hamla kar rahe hai kyunki unhe pata hai pol khul jayegi camera pe (Supporters of Asaram attacked the journalists because they know the cat is out of the bag)."
Gujarat Chief Minsiter and BJP election campaign chief Narendra Modi has specifically asked saints to maintain a good conduct. "If saints will indulge in such things then it is a big mark on society," he told ANI.