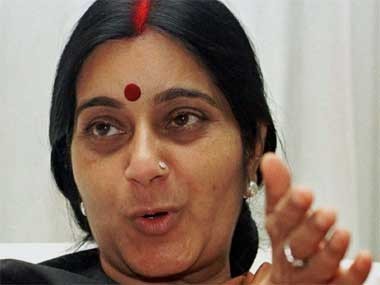 Leader of Opposition (Lok Sabha) Sushma Swaraj, reacting to a scathing attack from Congress spokesperson Digvijaya Singh, made it clear that even self-styled godman Asaram Bapu does not stand above the law.
Singh had lashed out against Swaraj on Saturday after Asaram Bapu supporters attacked media persons over the rape allegations against the spiritual guru.
"Strongly condemn attack on Media by Asaram Bapu's followers in Bhopal and Jodhpur. Why can't he face the Rajasthan Police if he is innocent? The most vocal voice of BJP against atrocities against women has been Sushma Swaraj. Why is she quiet in Asharam Bapu's case?" he had tweeted.
The Bharatiya Janata Party (BJP) leader reacted strongly on Sunday saying, "I told the media in Vidisha yesterday also. In our country we have a law that is same for everybody. There is no one big or small. And law will take its own course."
The war of words began when BJP Vice President Uma Bharti openly supported Asaram after a case of sexual assault was filed against him last week.
"Sant Asaram Bapu nirdosh. Sonia aur Rahul Gandhi ke virodh ki unko saza mili. Congress rajyo mein un par jhoota case darj. Hum sant bapu ke saath hain. (Asaram Bapu is innocent. He is being targeted for opposing Sonia and Rahul Gandhi. False cases are being filed against him in Congress states. We are with Asaram Bapu)," she had posted on Twitter on 22 August.
But the BJP took a u-turn when Jodhpur police said they found credible evidence against Asaram. The right-wing party warned its spokespersons to restrain from supporting Asaram till the case is resolved.
Asaram is accused of sexually assaulting a 16-year-old girl on 15 August and was arrested after midnight on Saturday. He has been taken to Jodhpur for interrogation by the Rajasthan police.