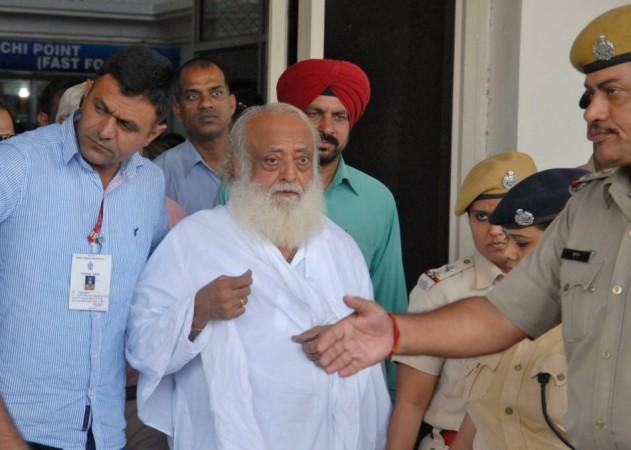 Asaram Bapu, the self-proclaimed godman who was recently arrested on rape charges, sparked another controversy after the victim's father sought for a narco analysis test to be conducted on the accused.
Asaram, who is currently in jail, was taken to MDM Hospital, Jodhpur on 9 September, for several tests which includes Magnetic Resonance Imaging (MRI) and Electrocardiogram (ECG).
Questioning the faith of Asaram's devotees, the victim's father said that his "blind followers" should wonder why their leader refused to undergo a polygraph and brain napping test if he claimed to be innocent.
"These tests would bring out the truth before the people and the world," the girl's father said, according to PTI.
Asaram was arrested by Rajasthan police on 31 August after a case was filed against him by the 16-year-old girl who studied at his ashram in Madhya Pradesh's Chhindwara district. A charge-sheet was filed stating that the minor was sexually assaulted in the name of exorcism.
Despite the string of controversies linked to him since 2008, Asaram enjoys a massive fan following.
Soon after his arrest, scores of his devotees staged protests in various parts of the country demanding his release. Trains were stopped abruptly and media personnel who were covering the issue were attacked.
In a recent development, Shilpi, the warden at Chhindwara Gurukul who introduced the victim to Asaram, claimed on Wednesday that she does not know Asaram.
According to reports, Shilpi was suspected to have been in an intimate relationship with Asaram and was presented with two flats from him in Delhi and Ahmedabad.
Bur police said that any claims of physical relationship between Asaram and Shilpi cannot be proved.
Asaram, who recently blamed the media for his downfall, was in further trouble after a CD processed by Asaram's assistant Shiva showed him engaging in immoral activities with a girl.
Shiva recorded videos of Asaram and his female followers in the "dhyan ki kutiya," a hut used for meditation. The 72-year-old spiritual preacher allegedly used those clips to blackmail his followers.
Asaram is booked under charges of IPC 509, section 8 of Children from Sexual Offences Act (POCSO) and sections 23 and 26 of the Juvenile Justice Act. He is also charged under sections 376, 342, 506 in connection to the sexual assault case. His bail plea was rejected by Jodhpur police on 4 September.