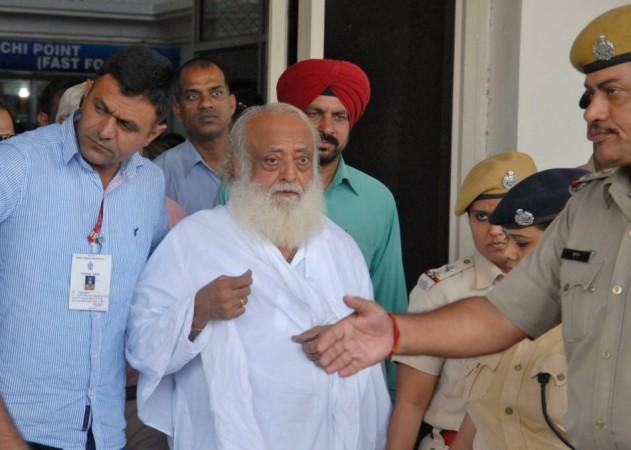 Spiritual guru Asaram Bapu was faced with another controversy after Jodhpur police got hold of CDs that showed him engaging in immoral activities with a girl.
The CDs were processed by Asaram's assistant Shiva. His description to police about Asaram's shocking activities might create further complications to the godman's already troubled state.
Shiva recorded videos of Asaram and his female followers in the "dhyan ki kutiya," a hut meant for meditation. The self-styled spiritual preacher allegedly use those clips to blackmail his followers.
Shiva's claim was confirmed by another worker named Amrut Prajapati who worked as a technical officer at the Ayurvedic division in Asaram's Motera ashram.
"One day, I was allowed to see him (Asaram) inside his private room, as he was severely ill. Since the guards knew me well, I went straight to his room and found Asaram in a compromising position with a 25-year-old girl, who used to stay in the ashram. This was the turning point for me," Prajapati said, according to Daily Bhaskar.
Additional Advocate General (AAG) Anand Purohit said Shiva is under police custody and might be taken as a witness. He added that Asaram's sexual assault case was fit for trial in a fast-track court.
Police is also searching for Shilpi, the warden at Chhindwara Gurukul who introduced the victim in the sexual assault case to Asaram.
Hust when the incident came to light, Shilpi went missing and has missed the 29 August deadline for appearing before the police. Her arrest might reveal more secrets about Asaram, said police.
"Shilpi is a vital link in the investigation. Shiva was the mediator between Shilpi and Asaram," DCP Ajay said. "It is Shilpi who planned to send the girl to Asaram by convincing her that she was under the spell of evil spirits and only Bapu could save her."
Asaram is booked under charges of IPC 509, section 8 of Children from Sexual Offences Act (POCSO) and sections 23 and 26 of the Juvenile Justice Act. He is also charged under sections 376, 342, 506 in connection to the sexual assault case. His bail plea was rejected by the Jodhpur police on 4 September.