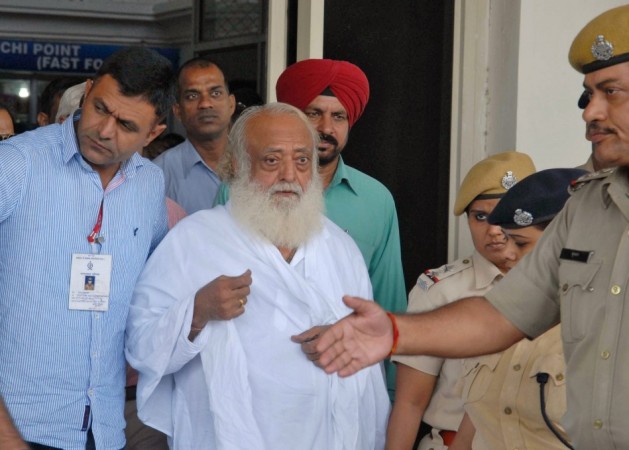 Asaram Bapu, after being questioned for hours in the sexual assault case involving a 16-year-old girl, has reportedly admitted that he spent one-and-half hours with the minor. A local court has remanded him to 14-day judicial custody on Monday.
As per the FIR filed by the minor, Asaram sexually assaulted her on the night of 1 August when he took her to his room at his Jodhpur ashram. "If a grandfather spends one-and-a-half hours alone with his granddaughter in a room and says something lovingly, it is not a crime," he was reported by the Indian Express as saying to Jodhpur Police.
Amid tight security, the 72-year-old spiritual guru was produced before the district and sessions court and was sent to judicial custody where he will remain till 15 September.
Asaram's lawyer has moved a bail application and a hearing is expected on Tuesday.
Asaram was in court for almost 15 minutes and after the court order he was taken to Jodhpur's Central Jail near Mohanpura bridge, PTI reported.
He again denied charges of rape and the defence counsel pleaded for proper medical attention be given to Asaram in jail.
Asaram's son had said that the spiritual guru was suffering from a neurological disorder.
"It has been proved to be a lie. His son can say what he wants to say. We can't comment on anybody's statement... A team of doctors said he is perfectly okay. He is mentally and physically fit," the DCP Ajay Pal Lamba told the news agency.
On Sunday, Asaram had also cleared a potency test after he was grilled for hours following the arrest.
"We are headed in the right direction and hope to file a chargesheet soon," the DCP told IE.
When news of him being in custody broke out, nearly 1,000 supporters of Asaram had collected outside the Central Jail on Monday night. Reports claim that police used mild force to disperse them and detained over 30 followers, including women.