In the course of UK tightening a noose around visa applications with hefty cash bonds, France has eased its visa norms for Indians who want to pursue higher education in the country.
France on Thursday issued a number of India-specific measures including free travels for students who have graduated from French institutes and building a bigger network of France-India job opportunities.
"It is about opening our arms and hearts for Indian students by facilitating their stay, not only in their visa area but other things like training, taking care of jobs when they are back in India. It is a package thing. There is no competition between the UK and us. We have our own visa policy, they (the UK) have their own visa policy," French Ambassador to India Francois Richier told PTI.
The statement comes at a time when UK Home Secretary Theresa May recently announced the cash deposit scheme for migrants from seven countries, including India, in order to curb visa exploitation.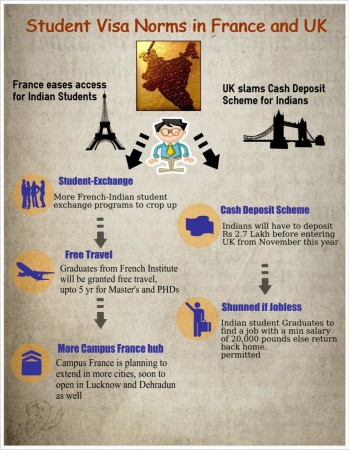 The students who wish to pursue higher studies abroad may look upon France now. Last year, no less than 2600 Indian students joined French institutions for higher studies to attend over 700 courses taught in English.
Richier also announced that from July 14 onwards, all Indians who have graduated from France later applying for a tourist or business visa for France 'will be given a visa with a long period of validity - up to five years if the studies in France were at the Master or PhD levels.'
Moreover the French embassy is "organizing a "France-India job opportunities" network for Indian students. Richier stressed that there are 350 French companies spread across India with 2, 40,000 jobs for Indians.
The proposed network will bring together the Human Resource heads of the major French companies in India and major Indian ones working in partnership with French companies, as well as International Relations heads of the renowned French and Indian higher education institutions.
To attract students from farther corners, the embassy has an agency, Campus France, to promote French higher education via partnerships with Indian institutes for student exchange programs. Campus France is present in 9 cities of India and Richier has decided to expand its offices in Lucknow and Dehradun this year.