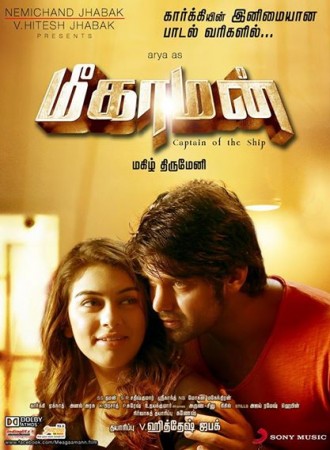 The trailer of upcoming Tamil movie "Meaghamann – The Captain of the Ship" starring Arya and Hansika Motwani in the lead has been released.
The teaser introduces the characters and the genre of the movie. The trailer has assured that the film is going to be an action packed thriller, directed by Magizh Thirumeni.
The trailer revolves around the underworld and the conflict between various gangs to be the leaders of business in Goa. Arya is seen as a gangster and Hansika as his love interest who falls in love Arya without knowing his background.
"Meaghamann" is shot extensively in Goa, Gujarat, Tuticorin and Chennai and will have seven actors in villainous roles.
The film is expected to be a huge hit and a milestone in Arya's career. The film's insiders say that the audience will see Arya in a new phase in terms of his body language. The film is said to give a new dimension to his acting style.
Meanwhile, Magizh made his directorial debut with the romantic comedy film "Mundhinam Paartheney" (2010). However, the film starring Sanjay, Ekta Ghosla, Lizna, Pooja and Sai Prashanth failed to make a mark at the box office.
Thirumeni's second film "Thadaiyara Thaakka", released in 2012, was an action thriller. The film was not much recognised at the box office and received only an average critical appreciation.
"Meagamann – Captain of the Ship" is Thirumeni's third film and his first big budget film till date. The other casts of the film includes Sudhanshu Pandey, Ashutosh Rana, Ashish Vidhyarthi, Anupama Kumar, Sanjana Singh, Avinash, Mahadevan, Harish Uthaman and Maha Gandhi.
"Meagamann" is produced by Nemichand Jhabak and V Hitesh Jhabak. The music of the film is composed by S Thaman and the cinematography is handled by SR Sathish Kumar.