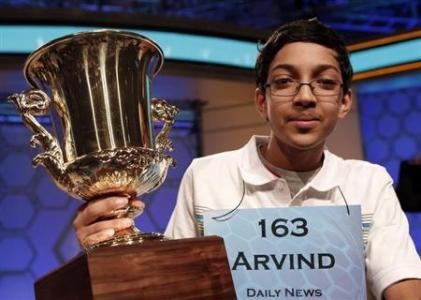 All of a sudden, 'Knaidel', a dumpling served in soup, is getting all the attention. And the credit goes to Arvind V Mahankali who spelled the German-origin word correctly to win the 86th Scripps National Spelling Bee contest held at Mary Land, US on Thursday.
The event started with 281 contenders or 'spellibrities' as dubbed by spell bee staffbut only 42 entered Thursday's semifinals. Mary Brook, Head Judge announced Arvind as 'the champion' and confetti shot over his head as he outlasted 11 finalists spelling the dish 'Knaidel'.
Arvind lives in Bay side Hill, New York and his family hails from Hyderabad, India. His victory is special in many ways; the 13-year-old is the 11th Indian-American to win the competition in the last 15 years (a trend set by Nupur Lala in 1999) and he won the title after three-near victories. He is the only boy to win the National Spell Bee since 2008. He was awarded $30,000 in cash, $2, 500 U.S savings bond from Merriam-Webster, $2, 000 worth of reference works from Encyclopaedia Britannica and a shiny engraved trophy with the Win.
Past two years in a row, it was German words that pushed Arvind to the third position at Spell Bee. But this time he said that he was better equipped and 'the German curse has turned into a German blessing'. The entire competition was televised.
Click here to watch the ESPN video of 86th Spell Bee contest final
As champions are not allowed to spell at the Bee again, Arvind says he is 'retiring on a good note' and 'will spend the entire day studying physics'. Arvind, in a CNN interview said, he now plans to focus on Maths and Physics competitions.