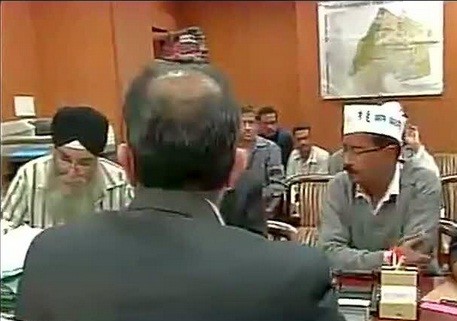 Under the direct orders of Delhi Chief Minister Arvind Kejriwal, at least 800 officials of Delhi Jal Board were transferred late night on Monday to ameliorate the service delivery mechanism, while three others were suspended on charges of corruption.
"Transfer orders for around 800 officials were issued today to improve service delivery," officials told PTI.
The massive reshuffle by the Aam Aadmi Party (AAP) government was done following the scheme of providing 20 kilolitres of free water in a month to domestic consumers, raising concerns by experts that it might further increase corruption within the water body.
Kejriwal, also the chairperson of the DJB, had issued specific directions to improve the service delivery mechanism of the state water body, following which the transfers have been affected
"All those officials who have worked for over three years in a particular place have been transferred to a different place," a senior official said.
Three other DJB officials were suspended after being caught taking bribes in a sting operation by a TV news channel. Urban development and PWD minister Manish Sisodia declared on Tuesday that cases of corruption will be filed against the three officials.
Last month, DJB CEO Debashree Mukherjee was transferred soon after Kejriwal took oath as Delhi CM.
"In its constant endeavour to shift its focus from being only an engineering-driven organization to being a cutting-edge service provider in the area of public utility, Delhi Jal Board is constantly making efforts to streamline its services and systems," a DJB spokesperson said.
While Kejriwal has been busy with common man issues in the national capital, his party has been geering up for upcoming Lok Sabha elections due April-May.
AAP is set to launch a 'national membership drive' for the general elections from 10 January till Republic Day.