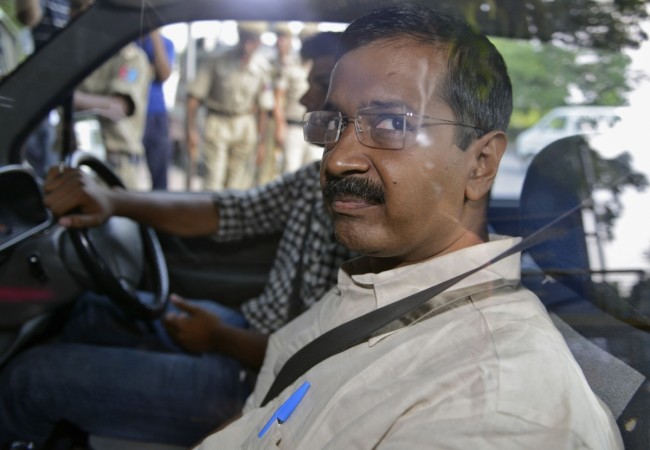 Aam Aadmi Party (AAP) leader Arvind Kejriwal, considered as a major face of a new anti-corruption movement in India and who is currently spending days in Tihar Jail, has sought to explain the circumstances which landed him in prison – an event that has caused much din and drama in the country that is waking up to a massive victory of Hindu nationalist BJP party in election and the swift rise of Narendra Modi to power.
Faced with the recent defeat in the Lok Sabha election, Kejriwal earlier tried to explain his desire to contest for Delhi again – the post he allegedly left in aspiration of the PM's chair.
The stubborn Kejriwal refused to pay a cash bond needed for getting bail on Nitin Gadkare's defamation charge – landing himself in jail for over two weeks.
(Read: Arvind Kejriwal Chooses Jail Over Bail: Spends Night in Tihar; Street Circus Returns to Delhi)
"I took on former BJP President Nitin Gadkari and exposed him, but he is roaming scot-free and I have been put in jail. They asked me to take bail, but what crime have I committed to take bail?" Kejriwal said on Saturday in an open letter that was signed as 'Prisoner No.3642, Jail No.4, Tihar'.
The letter was read out by senior party leader Manish Sisodia at a volunteers' meet which was called to discuss the party's future course of action after a local court extended his judicial custody till 6 June.
"There have been several defamation cases against me, but no one has ever asked me to seek bail because I am not a criminal. In this case, I thought I will get relief, but instead of giving me bail, the court has sent me to jail. Now that I am in Tihar Jail, the question comes to my mind as to how a common man will fight corruption," the letter, which many claim is just another attention-seeking tactic by the party, states.
In the emotionally charged letter, Kejriwal further states that in his fight against corruption, he has bravely withstood hunger, police's batons and insults and now, Tihar jail.
"Now you are my only strength. Please pray for me," he said in the letter.
In an activity of what has been referred to as 'Sankalp Sabhas,' AAP has decided to explain Kejriwal's situation and distribute his letter across the city to the general public.
"We have to send this letter to every household because the media is presenting the facts in a wrong manner," AAP leader Gopal Rai said. "Volunteers across the 70 Assembly segments should gather and spread this message through 'sankalp sabhas' in every ward. We will not stay quiet till our leader is out of jail."
This comes as the party has decided to kick-start a person-to-person campaign for the Delhi Assembly elections.