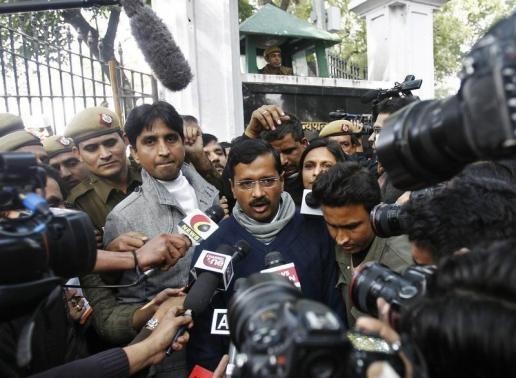 Arvind Kejriwal, chief of the Aam Aadmi Party on Wednesday, met with the man who slapped him while he was campaigning in Delhi on Tuesday.
Kejriwal reportedly wanted to meet the attacker in order to know what made him so angry. Lali, who is reported to be an auto-rickshaw driver, attacked Kejriwal while he was campaigning in Sultanpuri in northwest Delhi for the national election.
On Wednesday morning, when Kejriwal met the man, the 38-year-old attacker said, "I apologize to Mr Kejriwal. I committed a huge mistake by attacking him," NDTV reported.
Following are some of the pictures posted by the News Agency ANI on Twitter:
I apologized to Kejriwal ji, I had made a huge mistake by attacking him -Lali,auto driver who attacked Kejriwal pic.twitter.com/MgBQDgr7ts

— ANI (@ANI_news) April 9, 2014
Arvind Kejriwal and Manish Sisodia meet Lali,who attacked him yesterday pic.twitter.com/XdksLD3LOm — ANI (@ANI_news) April 9, 2014
While it can't be said with certainty what Kejriwal's motive was behind meeting with the man who attacked him, many are saying that this borders on the violation of model code of conduct as Delhi goes to polls on Thursday. Political parties are not allowed to indulge in campaigning now, although it is not certain if this move by Kejriwal will be construed as campaigning.
The AAP leader was in an open jeep on Tuesday, when Lali reached up and put a garland around his neck, before striking him hard on his left cheek, leaving Kejriwal with a swollen eye. He was immediately pulled to the ground and beaten by AAP supporters. Lali was later taken to the hospital.
The attacker, reported to be a resident of Aman Vihar in Outer Delhi, has accused Kejriwal of not fulfilling promises made to the auto drivers.
"I do not understand why do some people resort to violence for becoming the Prime Minister. If you think by attacking us, we will keep quite than you are wrong. We will fight this battle till the last breath," Kejriwal said on Tuesday.
The AAP chief will also meet 19-year-old Abdul Wahid, a resident of Dehi's Jamia Nagar area who punched Kejriwal at a public rally on 4 April.
Just hours after being slapped by the auto rickshaw driver, Kejriwal released a video manifesto seeking votes from people.
Watch the video below:

(Edited by Vanilla Sharma)