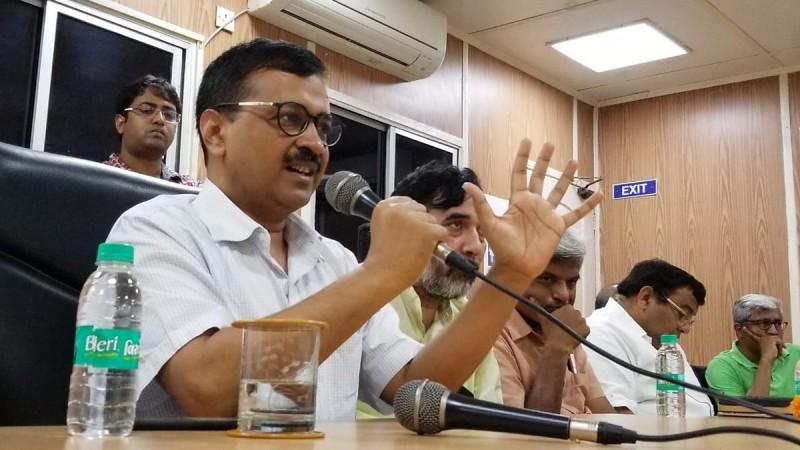 Delhi Chief Minister Arvind Kejriwal called off his eight-day dharna at the Lieutenant-Governor's (L-G) residence on the evening of Tuesday, June 19.
The Aam Aadmi Party (AAP) convenor also quickly changed the target of the dharna from Indian Administrative Service (IAS) officers to the Central government in general and Prime Minister Narendra Modi in particular.
The end of the strike came after Kejriwal and Co managed to reach a truce with Delhi's IAS officers in a meeting. He had earlier accused them of dereliction of duty because – he alleged – many of them had skipped work for several months.
He had apparently seen this as an affront to his government in Delhi, and an effort by the BJP-led Central government to impede his workings.
'Very good' experience
Addressing AAP members and journalists after ending the strike he had undertaken at the residence of Delhi L-G Anil Baijal, Kejriwal said: "The experience of the past nine days was very good."
A tweet by the official handle of the AAP quoted him as saying: "We have nothing against IAS officers: 99 percent of them are good people. We have worked with them to improve governance in Delhi. They were just a front for interference by the Central government and the L-G."
Another tweet quoted Kejriwal as saying that the AAP would continue fighting until the day Delhi received statehood status.
Strike struck down?
Kejriwal had begun the strike with Cabinet ministers Satyendar Jain, Gopal Rai and Manish Sisodia by his side. His demands included an end to the virtual strike by IAS officers working with his government and strict action against some erring bureaucrats.
Delhi IAS Association secretary Manisha Saxena had refuted the allegations against her fellow bureaucrats. She said: "It is unfortunate that the Chief Minister and the Ministers are making unwarranted and baseless allegations that IAS officers are on strike.
"We wish to reiterate and clarify that no officer/official in Delhi is or has been on strike subsequent to the unfortunate assault of the Chief Secretary on February 19 at the Chief Minister's residence by the MLAs."
Interestingly, Kejriwal's stir had garnered support from several non-BJP chief ministers, who rallied around at the prospect of the saffron party and Modi being cornered by the AAP leader's protest.