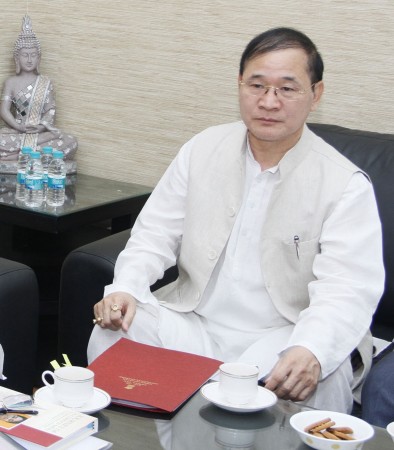 With former chief minister Nabam Tuki stepping aside, Congress leader Pema Khandu was sworn in as the new Arunachal Pradesh chief minister at noon on Sunday, July 17. Chowna Mein took oath as the deputy chief minister of the state.
Tuki had resigned from the post of Arunachal Pradesh chief minister on Saturday, a decision that also led to the cancellation of the floor test that would have been held that day. Khandu was elected the chief of the Congress legislature party in Arunachal Pradesh after Tuki resigned as chief minister.
Mein said after being sworn in: "We will work unitedly in the interest of the people and development of the state." He added: "Now that the issues (within the party) have been resolved, I look forward to work in cooperation to fulfil our responsibilities."
Tuki was among those who attended the swearing-in ceremony. He echoed Main's sentiments after the ceremony: "Differences [between various parts of the state unit of the Congress] have ended once for all. The party stands united and everyone will work together for the development of the state."
Also in attendance were other prominent Congress leaders, as well as People's Party of Arunachal leader Kalikho Pul, who later said: "I wish all the best to Pema Khandu. We will cooperate with him for the development of Arunachal Pradesh."
Meanwhile, observers believe that the Congress is expected to give Tuki a bigger political role, preferably in Delhi, where they can showcase him as someone who was targeted by the BJP and the Central government and came out unscathed and vindicated.
It may be noted here that Tuki had been reinstated as chief minister by the Supreme Court as it quashed the orders of Arunachal Pradesh Governor Jyoti Prasad Rajkhowa who, among other things, had imposed President's Rule in the State following the defection of several rebel Congress MLAs to the BJP.