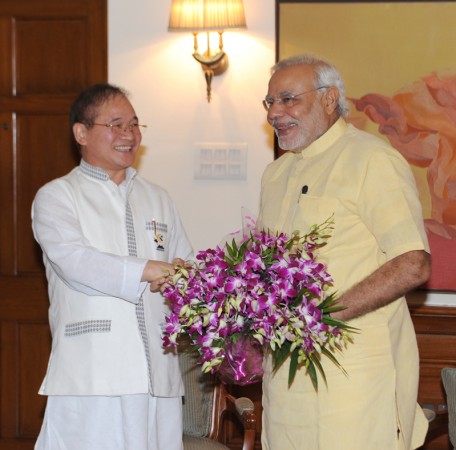 Arunachal Pradesh Chief Minister Nabam Tuki has urged Prime Minister Narendra Modi to reopen the historic Stilwell Road, which connects India with China and Myanmar. He also appealed to Modi to construct a road between Lumla in Tawang district and Tashigang in Bhutan to facilitate direct trade with the country.
A road between Lumla and Tashigang will also help Arunachal Pradesh have an alternate road apart from the one through Assam to reach Guwahati and other parts of the country. Construction of Lumla-Tashigang road will help in developing tourism and economic activities between India and Bhutan, he added.
The Union Home Ministry had been reluctant about reopening the Stilwell Road due to security concerns. India fears that revival of the road link may pave way for Myanmar's rebel groups into India.
The landlocked North Eastern states of India have been pleading with the Centre to reopen Stilwell Road, which could aid the development of states in the North Eastern Region of India
Tuki explained how his state had been facing hardships when it comes to traveling to other parts of India. Though the Assam route is available, traveling becomes a hassle due to frequent road blockades and agitations in the state. Apart from Arunachal Pradesh, other northeastern states also depend on Assam for all links to the rest of India, the Chief Minister said.
The Chief Minister also urged Modi to open the Pangsau Pass, which could boost trade between India and Myanmar.
The Stilwell Road, with a distance of 1,700km, connects three countries - Myanmar (1,000km) China (630km) and India (63km). The road is named after American General Joseph Warren Stilwell on the suggestion of former Chinese President Chiang Kaishek.
Built in 1942, the road helped in establishing links between Chinese forces and US-British forces when the Japanese Imperial Navy was blocking all marine supply chains. The American general played a key role in building the road during World War II for passage of British and American armies to China.
Stilwell Road starts at Ledo in Upper Assam's Tinsukia district. Presently, most of the 1,700km road is motorable, except 160km stretch in Myanmar, which needs to be renovated.