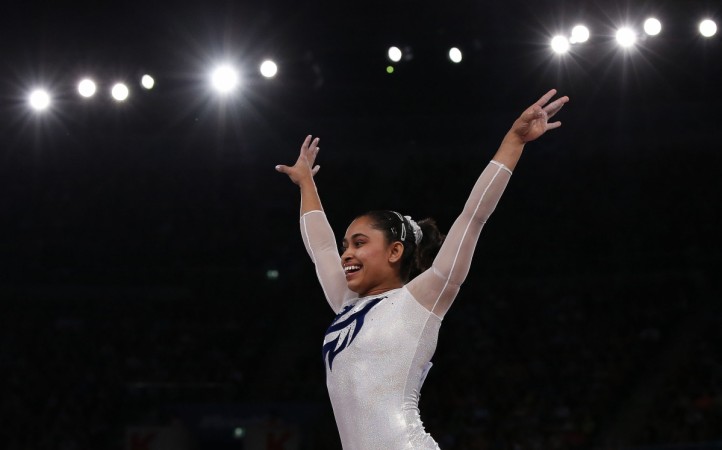 Dipa Karmakar, the poster girl of Indian gymnastics, took to Twitter to congratulate Aruna Budda Reddy, who became the first from the country to clinch an individual medal at Gymnastics World Cup.
"So proud of you Aruna!! Congratulations on your outstanding achievement! #Gymnastics #Gymnasticsworldcup #Bronze #India," Karmakar tweeted.
The 22-year-old gymnast achieved the feat when she won a Bronze in Vault in the ongoing 2018 edition of Gymnastics World Cup in Melbourne on Saturday, February 24.
Budda Reddy managed an average score of 13.699 in the final to finish behind Australia's Emily Whitehead (Silver - 13.699) and Slovenia's Tjasa Kysslef (Gold - 13.800). Notably, she had made her way to the final after finishing second in the qualification round with an average score of 13.566.
The Hyderabad gymnast clinched an execution score of 9.066 in the first round where she opted for a difficulty of 4.600. However, when she increased the difficulty of the routine to 4.800 in the second round, her execution score dipped to 8.833.
Notably, another Indian gymnast, Pranati Nayak finished sixth in the same event with an average score of 13.416 on Saturday.
Budda Reddy, who is also a black belt in karate, won her first national medal in 2005. She rose to prominence with a ninth-place finish in the 2014 Asian Games. She had warmed up to the world event by finishing an impressive sixth in the 2017 Asian Championships.
Saturday's historic win by Budda Reddy would further help the profile of gymnastics in India. Karmakar contributed a great deal for the popularity of the sport in the country after she narrowly missed a bronze medal in her Olympic debut at Rio de Janeiro in 2016.