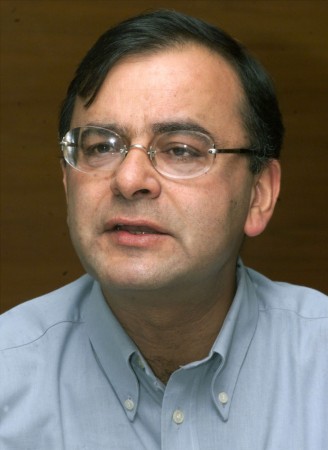 Gujarat Chief Minister Narendra Modi called Jammu and Kashmir government undemocratic for detaining Bharatiya Janata Party (BJP) leader Arun Jaitley and other political leaders at Jammu airport on Sunday.
Jaitley, leader of Opposition in Rajya Sabha, who arrived in the state on Sunday from Delhi to assess the communal violence in Kishtwar district that killed two people and injured many, was detained citing the sensitivity of the situation.
"Jaitley has been detained at Jammu airport soon after his arrival from New Delhi," Divisional Commissioner Jammu, Shantmanu, told Press Trust of India.
"He will not be allowed to visit Kishtwar in view of the sensitive situation and we are pleading him from return," he added.
Jammu & Kashmir Chief Minister Omar Abdullah, who opposed the idea of letting political leaders enter the Valley, told IANS, "My earnest appeal to the people is, please do not allow (political) parties who are putting political interest above human interest to exploit your sentiments and the situation."
BJP Rajya Sabha MP from Punjab Avinash Rai Khanna, who was supposed to join Arun Jaitley to Kishtwar district, was also detained. Peoples Democratic Party (PDP) President Mehbooba Mufti was also stopped from visiting the violence-hit region by J&K authorities just outside her residence.
The move of the J&K authorities has drawn flak from the BJP with Narendra Modi taking to twitter to slam the government, terming their move as undemocratic.
"Heard that Shri Arun Jaitley & other Opposition leaders are not allowed to go to Kishtwar. This is undemocratic," tweeted Modi. "Stopping Opposition leaders in this manner shows that the Government does not want the truth about the Kishtwar violence to come out."
Meanwhile, PTI has reported that fresh clashes took place on Saturday. Akhil Bharatiya Vidhyarthi Paishad (ABVP), a students' wing of the RSS, tried to disrupt rail services in the state and stopped an Ahmedabad-bound train for a brief period.
An additional 500 army personnel, including the CRPF, have been deployed in the state to handle the communal tension. Curfew has been extended to Kathua, Samba and Udhampur districts of the State.
"I can assure the people on behalf of the government that we will do everything necessary to ensure it (violence) does not spread... We will do everything to restore calm in Kishtwar and other areas," Omar Abdullah told IANS.
The communal clashes that hit Jammu and Kashmir state on Friday left two dead and more than 60 people injured.
The riots were put under control only after a flag march by the soldiers. The state government also imposed an indefinite curfew in the disrupted district in an attempt to dose off the tension in the state.